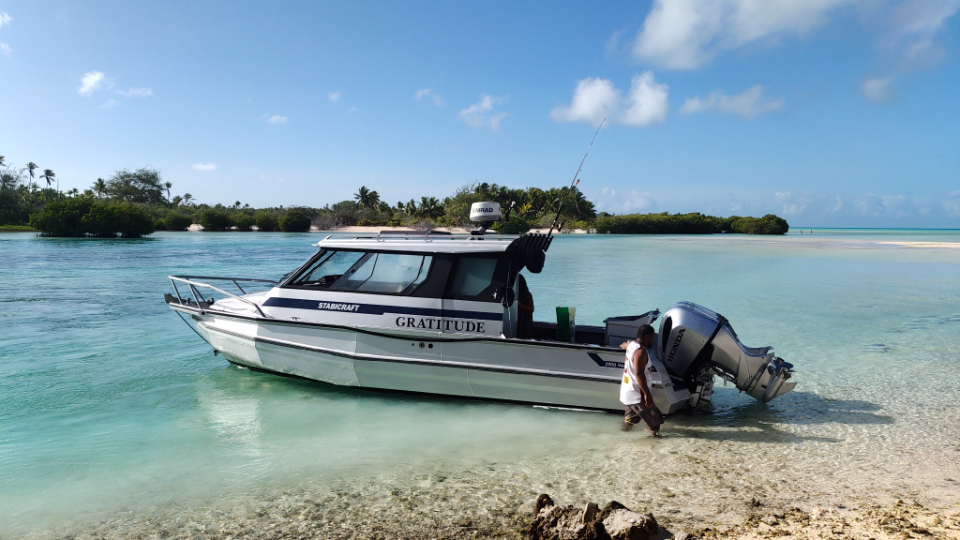 Local leaders of The Church of Jesus Christ of Latter-day Saints in Kiribati are deeply appreciative for a new boat, aptly named Gratitude, which recently carried them to visit people living on remote and far-flung islands scattered across the vast Pacific Ocean.
Kiribati Church leader, Elder Iotua Tune, and his wife, Maii, recently traveled aboard the Gratitude with mission leader John Kendall and two young missionaries to minister to the people living on the outer islands of Abemama, Aranuka, and Kuria.
"It is just a joy for us to be able to go and visit the islands," Elder Tune said. "The people there are so happy that we came to visit to bring them our love and the love of the Saviour, and we were so grateful we could go. Our boat fits the name."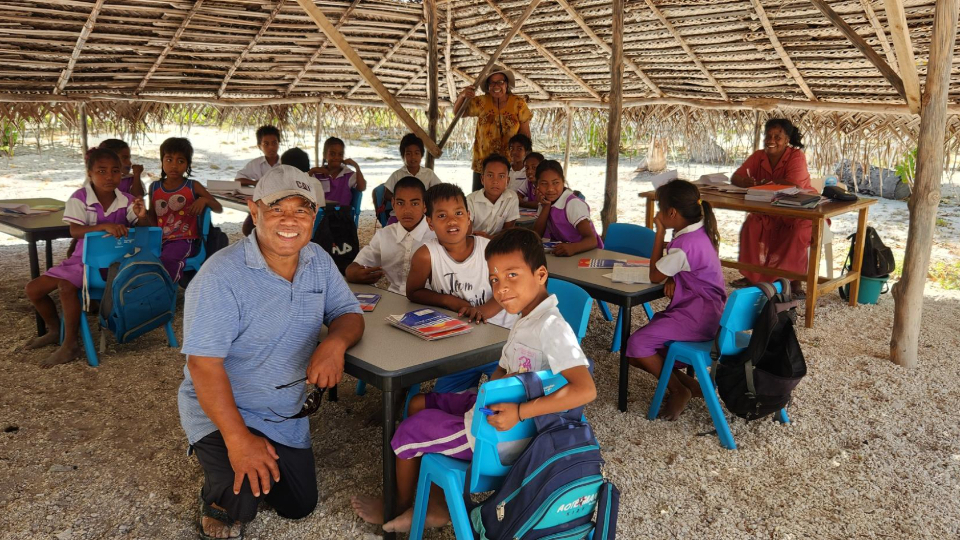 Traveling aboard Gratitude, the group left Tarawa to head 78 kilometres south to isolated Abemama Island, population of about 3,500. After ten hours of travel through rough seas, the travelers arrived at Abemama just before dark. To their surprise, a group had gathered at the Church meetinghouse earlier that morning and had eagerly waited the entire day to greet the visitors warmly with big smiles, hugs and lots of food.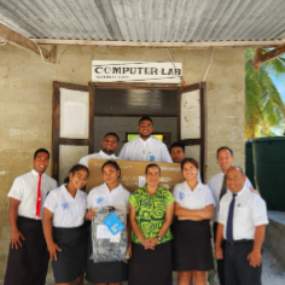 As part of their ministering, Elder Tune, President Kendall and the missionaries brought a much needed laptop and screen to donate to Chevalier Catholic High School on Abemama. Over 500 students come from other small islands to board at the school.
"It was a humbling experience to see their computer lab. We walked into the building with the 'computer lab' sign over the door and there were no computers there. So, when we came with a laptop and a screen, the principal and the students were so excited! Now they have a computer in their lab," Elder Tune said.
The group also delivered ten desktop computers and a new laptop and screen to the Seventh-day Adventist Church-run Kauma High School. The computer lab at Kauma High School had been previously destroyed by fire.
Elder Tune and President Kendall expected to drop the computers off at the door of the school, but were delighted to find that the entire student body was gathered to express their sincere thanks. The students further gladdened the visitors' hearts by singing in their beautiful harmonic voices "Joy, Joy, My Heart is Full of Joy" and with a number of short speeches by students.
"The feeling there was so powerful, it was almost overwhelming," Elder Tune said. "We felt so much love and yes, we felt hearts full of joy.
"The Kauma High School Principal, Tekemau Ribabaiti, is a wonderful, energetic man who is 78 years of age and still contributing so much. He was thankful for the computers, but even more so, he was touched that we would come so far to visit."
Principal Ribabaiti told his students, "These people come with their hearts. We can feel their love. We are grateful for the computers, but we are more grateful for their hearts."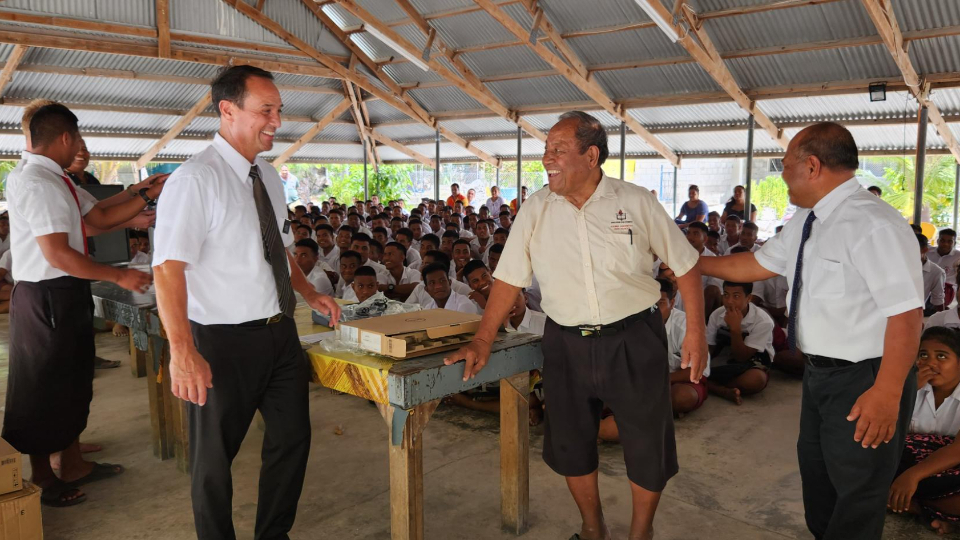 Elder Tune and President Kendall trained local leaders of the Church of Jesus Christ and buoyed up the Latter-day Saints by speaking to them at a Christ-centered devotional with a focus on preparing the Saints for temple worship.
The people of Kiribati have long hoped for a temple on their land and look forward to the construction of the Tarawa Kiribati Temple which was announced in 2020.
Young full-time missionary, Baylor Johnsen, recalls the reaction of one of the members at the devotional.
He said, "I stood up to address the gathering. When I started by explaining, 'We are here to help you get to the temple' a woman named Aribo began to cry tears of joy. As I saw the smiling faces of her and others, I felt the love of our Saviour for each of them. I left that island with the sure knowledge that God knows and loves all of His children even on the most remote islands of the sea."
Travel on Gratitude continued 23 km across the sea to Aranuka and a further 15 km to Kuria to minister to the peoples of these isolated places by lifting and serving, training and speaking to members and friends of the Church.
Additionally, Elder Tune and President Kendall surveyed and identified water critical areas on the islands to move forward The Church's plans to build nine desalination plants in Kiribati.
Clean drinking water is an acute problem in Kiribati hence the desalination plants will be a precious gift to every inhabitant of each location that will receive one.
Elder Tune joyfully rehearsed the details of the visit and ended saying, "I returned from these islands a better person because of the faith of the wonderful people that we visited. There is no better way to minister and to share the love of Jesus Christ than face to face and to look into their eyes. We had very little to give them, but they felt our love and that was a beautiful experience. We are indeed grateful to serve, and that we have a new boat to make it possible."
President Kendall added, "I will never forget that ten-hour boat ride and that Gratitude got us there safely. Even more, it was exciting to visit the outer islands and see firsthand how we can support these remote and far-removed congregations. We are grateful that soon the Church will have the opportunity to bring clean water to these communities to remind them that they are remembered by the Saviour, and loved."