Wellington, New Zealand mayor, Celia Wade-Brown, honoured "Mormon Helping Hands" volunteers from The Church of Jesus Christ of Latter-day Saints on Wednesday evening with a community service award.
As she addressed city officials and Latter-day Saint guests, the mayor said, "Today I am absolutely delighted to be presenting the Mormon Helping Hands with an Absolutely Positively Wellingtonian Award to recognize their contribution and positive attitude toward the city."
Mayor Wade-Brown said the volunteers regularly participate in community efforts "with such an enthusiasm, friendliness, and willingness to help this lovely city."
The community award was accepted by Church representatives, Peter S. Thomson, Tania Torea and Eileen Mueller. It recognised the efforts of over 1,500 people who had given more than 5,500 hours of volunteer service to the citizens and communities of Wellington over the last several years.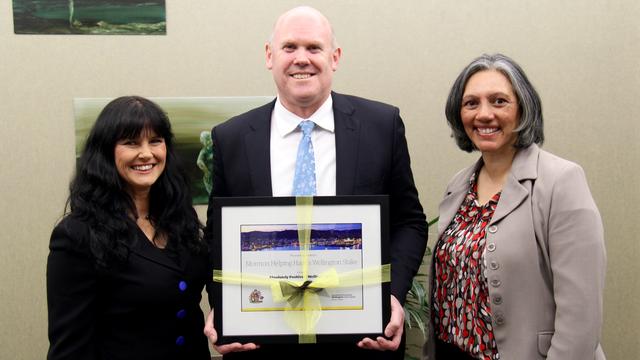 Mayor Wade-Brown said, "Wellington is the southernmost capital in the world. It's a beautiful place with a lovely natural harbour, surrounded by the hills. The Maori people are the first peoples here, and we have got such a multicultural, diverse and welcoming city."
The Mormon Helping Hands programme brings together members of The Church of Jesus Christ of Latter-day Saints and their neighbours to provide community service. These volunteers in their trademark yellow shirts help people whose lives have been affected by natural disasters and other emergencies.
Mormon Helping Hands volunteers also partner with government and non-profit organizations to support and improve the communities where they live.