From fixing a school's basketball court to pulling weeds in a veggie garden for disabled youth, "Mormon Helping Hands" volunteers made a big an impact on communities across the South Pacific region last Saturday (29 October 2016).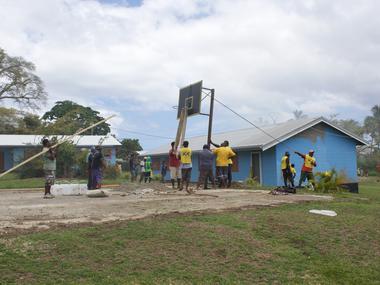 Latter-day Saints are often found wearing the distinctive yellow "Mormon Helping Hands" shirts, pitching in at different times throughout the year, but last Saturday was different.
Environment beautification and community service inititiaves were coordinated to take place on the same day across New Zealand, Australia, Papua New Guinea, and the islands of the South Pacific.
"Mormon Helping Hands" volunteers in Suva helped out at the Hilton Special School for the physically and intellectually handicapped children of Fiji.
The Head teacher of the school, Mrs Nainise Ravisa, expressed thanks to the volunteers for cutting the grass of the school compound, painting the tyres of their flower beds, and sweeping their gymnasium.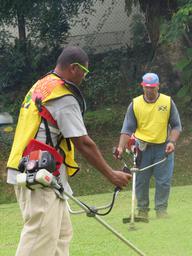 Six-year-old Isoa Ratuvukivuki, who was sweeping the driveway, said that he came with his father and was happy to come and work.
Willie Irava, a former missionary, said he was happy to be part of the service.
"It feels really good to help our fellow men," he said. 
Talei Yabakivou, a local Latter-day Saint leader, said, "I feel very humbled as the school needs our help and it gives me great joy to do something for them.
"We need to have more love for our brothers and sisters who are physically affected in some ways and for us to find ways to serve them." 
Volunteers from Auckland lent a hand at CCS Disability Royal Oak on Saturday. They weeded a vegetable garden, pruned hedges, and helped in other ways around the facility.
View photos and read about some of the other community service activities that took place last Saturday, and at other times in the last few weeks.