A special five-day workshop on value-added agriculture was taught by the Vanuatu Department of Industry to members of The Church of Jesus Christ of Latter-day Saints in Port Vila recently.
The workshop focused on how families and individuals can preserve their crops for long term storage in order to have food on hand in case of emergencies or longer term issues like the recent pandemic which locked down households in Vanuatu for many days.
Participants also learned how to add value to their crops by processing them and packaging them. Value added products are raw agricultural products that have been modified or enhanced to have a higher market value. It can also give raw products a longer shelf life so they can be stored for later use or sale.
The workshop showed examples of how to add value and preserve twenty-two different products such as ginger tea, fruit cordial juice, jams, root crop chips, and even baked bread and cake using manioc (cassava) flour and other products. By packaging and selling these higher value products, people can create more income for their families.
The training also included food safety, labelling and packaging, and how to price products. The course leaders provided learning materials so that attendees can conduct training for others.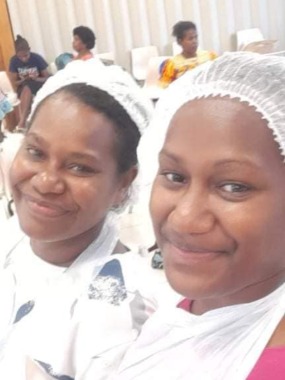 Latter-day Saint leader, Ngera Thomas Tokalolo, took part in the workshop.
"We learned how to be more self-reliant during hard times, such as during this pandemic in our country right now," he said.
"All the agricultural products used in the demonstrations were local foods that we have all around us. This gives me more interest on how I can return and apply what I have learned throughout the week."
Marie Joe Hokau also attended the workshop. "I encouraged all those who have participated this week to return and apply what they have learned and to share it with their congregations and their families," she said.
"These things we have learned will benefit us for our lifetimes."