According to the Fiji Ministry of Health website, 30% of the population in Fiji are known diabetics, with more who go undiagnosed until they present with the tragic side effects of this disease.
Blindness, heart disease, foot ulcers and amputation of lower limbs and feet are common in Fiji and other island nations.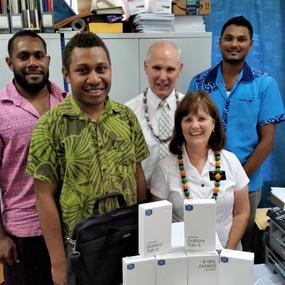 The care and treatment of this disease places enormous strains on family and health care systems.     
Recently, LDS Charities, the humanitarian arm of The Church of Jesus Christ of Latter-day Saints donated twenty Samsung tablets to Diabetes Fiji.
Diabetes Fiji Footcare Project Manager, Viliame Qio, accepted the donation and said, "Apps will be downloaded from the International Diabetes Federation, then used for education of our target audience−children, parents, caregivers and teachers."
The tablets will be used by officials from Diabetes Fiji to carry out educational visits in communities and other outreach programs.
Education−especially of children−is key to shedding light on prevention and treatment programs.
LDS Charities partners with organisations such as Diabetes Fiji throughout the Pacific who understand the unique needs of the communities they serve and then assist to develop local solutions.
Watch a video on combating diabetes in Fiji by Paesha Tuttle - Newsroom Contributor
Mormons believe "that as members of the Church, we each have the sacred responsibility to 'bear one another's burdens that they may be light','to mourn with those that mourn', and to 'lift up the hands which hang down, and strengthen the feeble knees.'"  
Elder Ronald A. Rasband - April 2014 General Conference