Members of several faiths from Nelson, New Zealand participated in a week of prayer for world peace, starting October 15.
Lovey Gieger, a member of The Church of Jesus Christ of Latter-day Saints who attended the event, said, "It was uplifting to share such words of hope, uniting us all in our spiritual endeavour towards peace, love and compassion for all."
The culminating event of the week included the planting of a Kowhai tree to be known as "The Tree of Peace," planted by Tasman mayor Richard Kempthorne.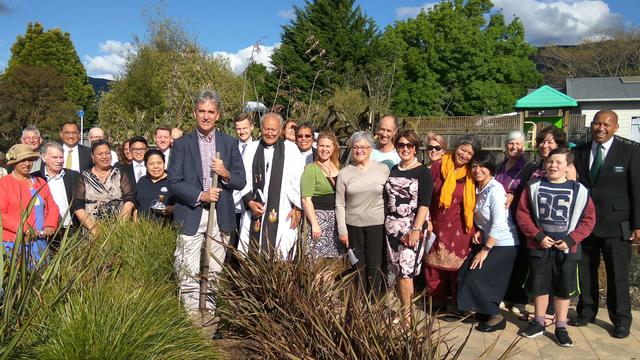 Mayor Kempthorne said that he "appreciated the formation of the Interfaith Council for our region where people from various faiths come together showing mutual support and respect and tolerance to help build a healthy and vibrant community."
Mormon Newsroom states: "A respect for the diverse beliefs and unique contributions of all the world's faiths is one of the hallmarks of Mormonism. From the earliest days of The Church of Jesus Christ of Latter-day Saints, Joseph Smith elevated the principle of religious liberty and tolerance: 'We claim the privilege of worshiping Almighty God according to the dictates of our own conscience, and allow all men the same privilege, let them worship how, where, or what they may' (Articles of Faith 1:11)."
Elder D. Todd Christofferson, an apostle in The Church of Jesus Christ of Latter-day Saints, has spoken of the connection between religious freedom and peace.
"May we pursue peace by working together to preserve and protect the freedom of all people to hold and manifest a religion or belief of their choice, whether individually or in community with others. At home or abroad, in public or private, and in worship, observance, practice and teaching," Elder Christofferson said.
Read a short article about Interfaith Council in Hamilton, New Zealand