The President of the Republic of Kiribati, His Excellency Taneti Maamau, and First Lady Teiraeng Maamau, hosted a dinner reception on Wednesday, 13 October at the State House in Bairiki in honour of the 192nd semi-annual General Conference of The Church of Jesus Christ of Latter-day Saints.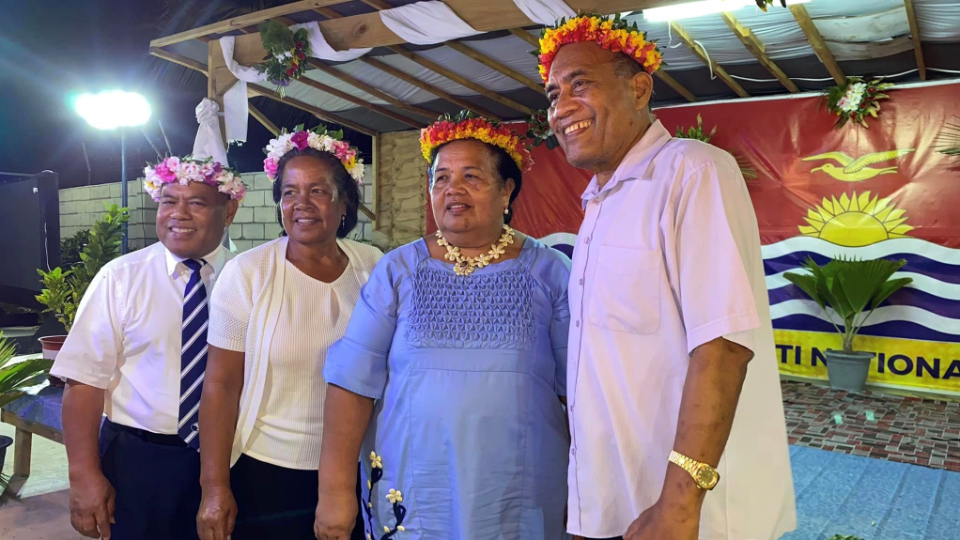 Invited guests included Elder Iotua B. Tune, Pacific Area Seventy, and Sister Maii Tune; other local Latter-day Saint leaders; and representatives of the diplomatic corps.
In his remarks, President Maamau thanked President Russell M. Nelson and the First Presidency for the worldwide General Conference heard and viewed by people across the Kiribati nation on Radio Kiribati and KiriOne TV.
The 98th birthday of President Nelson was also a highlight of the night. President Maamau, on behalf of the government of Kiribati, gave blessings and best wishes to President Nelson.
President Mamaau expressed appreciation to the leaders of The Church of Jesus Christ of Latter-day Saints for support given by the Church to the people of Kiribati during the Covid-19 pandemic. He noted that more than $200,000 of humanitarian aid was received.
Lastly, President Maamau asked the leaders of the Church in Kiribati to continue joining hand in hand with the Kiribati government in sharing the same common goal—to promote love and good deeds to all the nation.
President Maamau gave the Kiribati traditional blessing of "Te Mauri Te Raoi ao Te Tabomoa," or "Peace, Health and Prosperity" to all who attended.
Elder Tune was asked to speak during the dinner reception. He invited those attending to "Come unto Jesus Christ and be perfected in Him, for Christ's yoke is easy and His burden is light" (Matthew 11:28-30).
Elder Tune invited all to "turn their hearts to the Saviour, Jesus Christ," with a blessing that if they do so, "they would have the joy and peace the Lord promised to those who come unto Him."