His Excellency Taneti Maamau, president of Kiribati, presented certificates to eight TVET graduates last month at a ceremony at Moroni High School in Tarawa.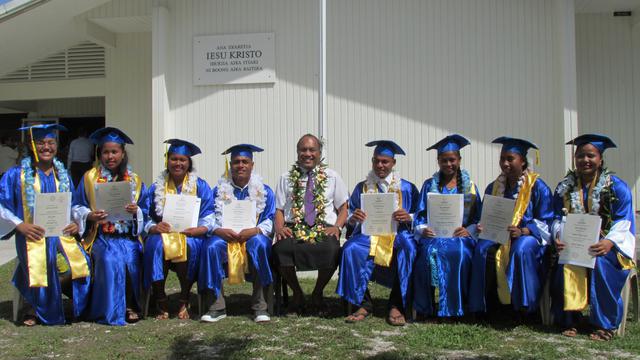 President Maamau congratulated the students for completing courses in fashion and design, and baking and patisserie. Two other graduating students were not able to attend the ceremony.
Moroni High School, which is owned and operated by The Church of Jesus Christ of Latter-day Saints, places a strong emphasis on helping individuals with an interest in TVET (technical and vocational education and training). The school has been offering TVET courses since 2012.
The Pacific island nation's president urged the graduates to utilise their skills to find good jobs, possibly in self-employed businesses.
Taala Tiaeki, Riteta Fatima Rimon, Mantoti Tentara Tune, Ueauea Takakia and Iolas UH Kairo completed Certificate II in Fashion and Design. 
Charlotte Barry, Maryann Teibuako, Kekerosa Tieke, Erenoa Timra and Eribati Biribo completed Certificate II in Baking and Patisserie.
Among those in attendance at the graduation ceremony were H.E. Mr. Bruce Cowled, Australian High Commissioner; H.E. Mr. Don Higgins, New Zealand High Commissioner; and Kiribati Attorney-General Mrs. Tetiro Semilota.