Caitlyn Reid and Crystal O'Kane are two young women from Gold Coast, Australia preparing to leave on full-time missions with The Church of Jesus Christ of Latter-day Saints. They are just finishing up their online MTC (Missionary Training Centre) experience.
These best friends started their friendship back in high school where Caitlyn was the only member of The Church of Jesus Christ of Latter-day Saints in her friend group.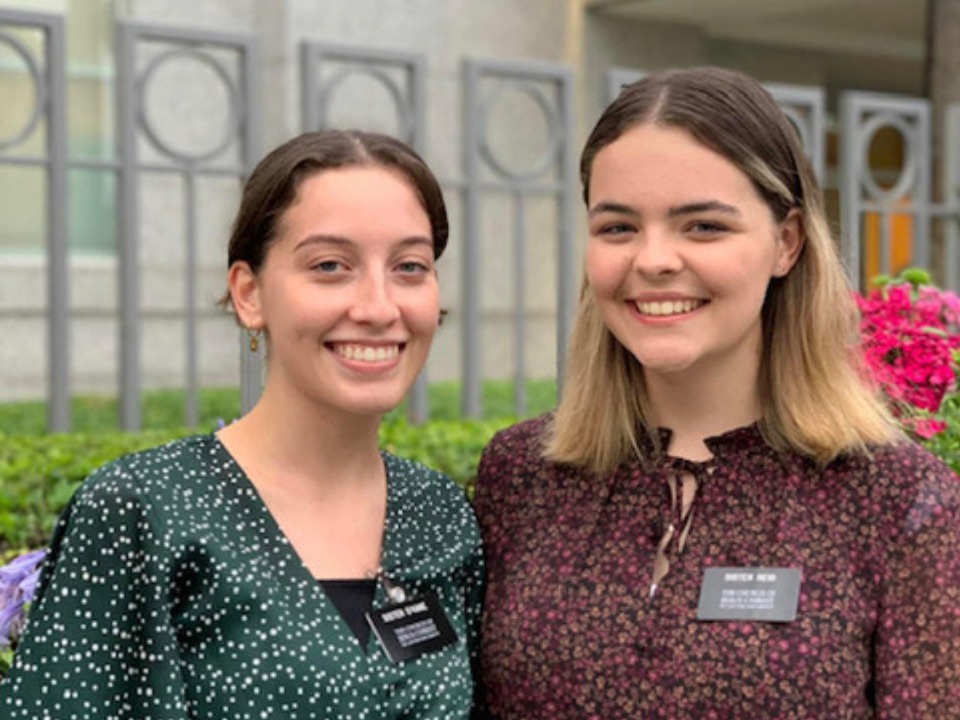 While preparing to attend the "For the Strength of Youth Conference" (FSY) in 2018, Caitlyn courageously invited two of her friends to join her. They had come to a few church dances and activities before, but FSY was a much bigger commitment – a full week with 1200 teenagers, all learning about Jesus Christ and building relationships with other like-minded youth.
Caitlyn's mum, Natalie, encouraged the idea of inviting her two friends to FSY, so Caitlyn acted on her prompting to invite them.
Crystal was one of Caitlyn's friends who accepted the invitation to come to FSY. She had enjoyed the activities Caitlyn had invited her to in the past and was looking forward to a week of fun at FSY.
Crystal also said coming into FSY that she had "no intention of joining the Church."
"Once we were there, I realised they were feeling the spirit and were engaged in lessons about the gospel," recalled Caitlyn.
"God's hand was undeniably involved in what happened that week at FSY," Caitlyn says.
"I knew it was meant to be when our FSY counselor was a convert herself, and I knew she would be great in relating to my friends."
Crystal's greatest experience at FSY was feeling the spirit for the first time. She bore her testimony at a FSY testimony meeting and returned home with a burning desire to learn more about the Church and Jesus Christ.
Crystal invited the missionaries to teach her more, and four months later, Crystal became a member of The Church of Jesus Christ of Latter-day Saints. She was baptised on 27 May 2018 by her FSY Company leader.
Crystal became fully immersed in the Church, with the support of her friend Caitlyn and other friends she made at church. She even got involved in the Seminary program (youth scripture class) and joined Caitlyn for their last year of Seminary together.
Seminary was where Crystal had the opportunity to learn about and study The Book of Mormon: Another Testament of Jesus Christ, where she found her favourite scripture – 1 Nephi 4:6. "And I was led by the Spirit, not knowing beforehand the things which I should do."
Both women went on to study at university while also preparing to serve missions. Caitlyn has completed her Bachelor of Film and Screen Media Productions and has been called to serve as a missionary in the New Zealand, Wellington Mission. But due to the Covid-19 pandemic and border restrictions, has been temporarily reassigned to the Australia Perth Mission.
Crystal has graduated university with a Bachelor of Fine Arts and has been called to serve her mission in the Australia, Melbourne Mission.
Both women leave on their missions this week and have enjoyed the last few weeks continuing to prepare for their missions with the online MTC as companions.
"All it took was a friend's simple invitation to bring the gospel into my life," Sister Crystal O'Kane says with a smile.