Members of The Church of Jesus Christ of Latter-day Saints were invited this week to record their personal histories to help preserve the Church's rich French Polynesian heritage during an April 26 devotional with Elder Steven E. Snow in Papeete, Tahiti.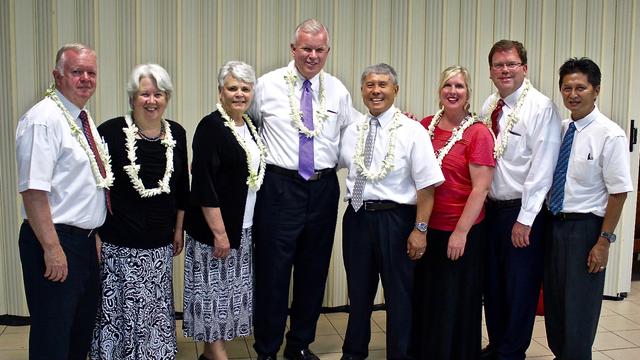 "I hope you will always remember your great legacy of being the first part of the world that was taught the Gospel in another tongue," said Snow, who serves as the Church Historian and a member of the Seventy, one of the Church's governing bodies.
"I'm grateful for your faith and I hope you have a record of your own conversion. Your story is important and you need to record it," he explained during the meeting at the Fariipiti chapel.
Elder Snow reminded the audience that active missionary work and several Latter-day Saint congregations had already been established in French Polynesia before the Mormon pioneers walked across the United States and settled in the Salt Lake Valley.
It is "one of the best kept secrets in the Church," he said.
Elder Snow travelled to the South Pacific to observe the ongoing construction of a Church History facility adjacent to the Latter-day Saint temple in Hamilton, New Zealand and to visit sites important to Church history in French Polynesia.
He was accompanied on the trip by his wife, Phyllis; Managing Director of the Church History Department Reid Neilson and his wife, Shelly; and Lindsay and Tina Dil, who serve as Pacific Area Church History Advisers.
All six visitors spoke during the fireside, which was attended by more than 700 members and friends of the Church.
"You Latter-day Saints here in Tahiti are examples of the love of the Saviour," said Reid Neilson, who is also the Assistant Church Historian. "This was the first global mission of the Church. Until I came here I really didn't understand or fully appreciate what you have accomplished and continue to do."
Neilson encouraged members to study the Church's history and to explore the historical resources that are available at lds.org. These resources include essays on a variety of historical topics and "Pioneers in Every Land," a collection of stories about Church members from throughout the world.
Watch a video about the history of Mormonism: