A group of members of The Church of Jesus Christ of Latter-day Saints from a small congregation in New Caledonia made the long journey to Papeete, French Polynesia this month to attend the temple for the first time.
For members of the Church of Jesus Christ, the temple is the most sacred place on earth, where one can learn more about God's plan for His children and the gospel of Jesus Christ. In addition, families can be joined together for eternity by participating in temple ceremonies, called ordinances.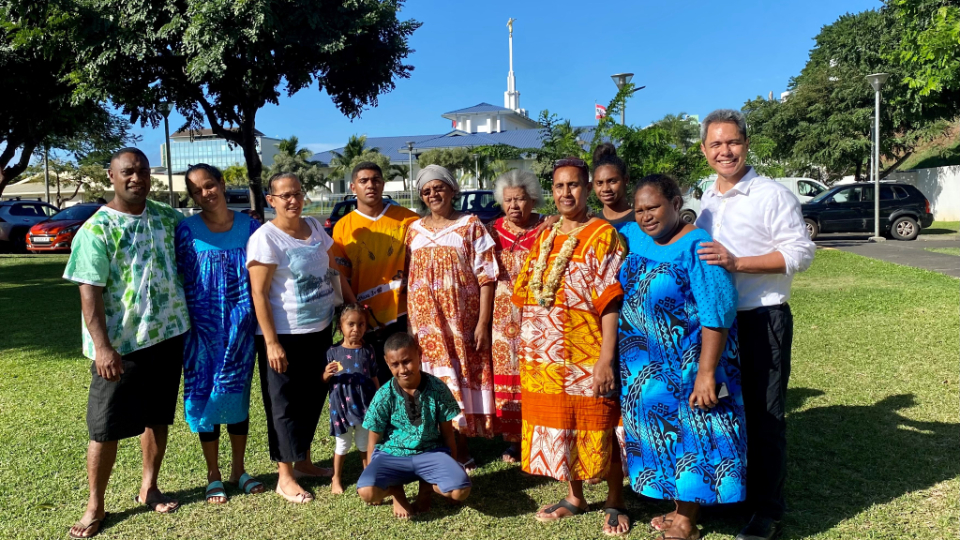 The Church members are from Lifou, an island located about 150 km from the capital in Noumea. Their journey required a six-hour boat trip, then another six hours by plane to reach Pape'ete.
In mid-June, Jean Olivier Smatti, president of the Noumea Stake in New Caledonia, challenged the leaders of the Lifou Branch to prepare a group of members to be ready to worship in the Papeete Temple in August 2022.
It was a big challenge for this small branch of 35 members. Only eight weeks were left to get ready, but four adults, two teenagers and two children were willing to go.
Sonia Hotere taught a special class to help them prepare and were impressed with their dedication.
"They never missed any of the classes and worked hard learning about their personal family history to have names to present at the temple. Their commitment over these last weeks has shown how ready they are to enter in the House of the Lord."
Lido Wenehoua, a lay leader of the Church in Lifou, said that he and his family were baptised in 2017 after meeting some Church members in New Zealand in 2004.
Now, he and his wife were almost beyond words as they talked about how it felt to be joined together with their children for eternity.
"When I understood the difference between going to church and going to the temple, I was amazed. I would have been happy only to go to church my entire life because I am really grateful for what I had. But now I know what the temple is for, I thank Heavenly Father to have opened my eyes and to let me and my family go there."
Adelana Wenehoua said, "I was so happy to take [names of] my ancestors with me to the temple, and my children will be baptised for them. It is an indescribable joy for our family."
"When we entered the temple, I felt very calm. I wondered if could ever find another place that was so quiet. I felt like I was in another world."
The person who met them in the temple was Tony Mapuhi, who volunteers in the temple and has the special calling of performing marriages. As it turns out, he was one of the first missionaries to come to Lifou and he served in Luengoni where the Church began. In addition, the temple president was also a missionary in New Caledonia. The entire group felt very much at home.
With the family names they had researched, the Wenehoua's and their children were able to be baptised on behalf of their own ancestors.
Marie Denise Peikala, a widow and Sunday school teacher, was very touched by President Smatti's messages and it made her want to come to the temple. She says she sees the fruits of her participation in the Church. She is grateful for the opportunity she has to be joined to her husband and her parents through temple ordinances.
"When I was in the temple for the first time, I did not feel the time pass. It was like I was in another world. When I left, I realised that I was in Tahiti but in the temple I felt like I was elsewhere."
Arlette Huna leads the Church's women's organisation in Lifou, called the Relief Society. She joined the Church six years ago with three of her children with the support of her husband. She said that going to the temple will be a blessing for her entire family.
"I already found a lot of happiness and joy when I got baptised so I could hardly imagine how it will be when I'll be there!"
"When I got in the temple, I just cried because I felt the spirit of the Lord. I know this is His house. There were a lot of emotions. I pray that sometime soon we can come to the temple together."
"The members of the Lifou branch have a pure faith in Jesus Christ, a faith that leads to sacrifices, efforts and changes," President Smatti added.
"Thanks to this faith, without knowing about the temple, they acquired a love and a comprehension of the importance of the covenants they will make there. I know that they will come back to Lifou with the power of Heaven."