Members and friends of The Church of Jesus Christ of Latter-day Saints across Australia, Papua New Guinea, New Zealand and the islands of the South Pacific are enjoying participating in the Church's annual General Conference.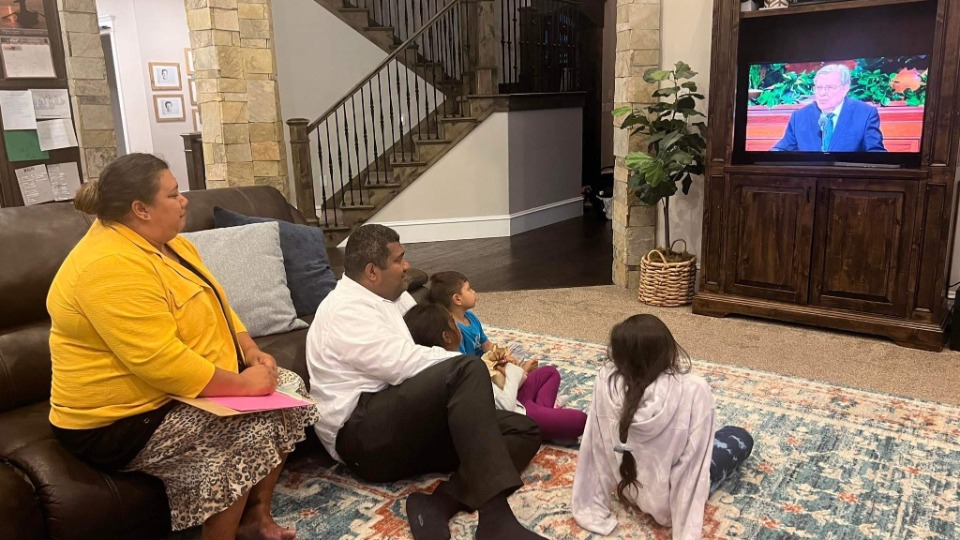 The General Conference took place in five sessions in Salt Lake City, United States on 1-2 April. For those not in Utah, people can watch and listen to General Conference on television and radio, by satellite and the internet. To learn more about watching General Conference, click here. For viewing details for those in the Pacific Area, including in regional languages, click here.
Fiji family, Uraia and Marji Whippy Levaci, were in Utah at General Conference time, so they went to a session in the Conference Center and then watched other sessions at a home with other family members. Being from the South Pacific, this was the first time they watched General Conference with a fireplace in the room!
Uraia said, "This is always a conference that we look forward to as it is so close to Easter and like every conference we have felt Heavenly Father's love each time we hear our leaders speak to us. We have loved the messages and commit to being better disciples of Christ in all we do."
The Battye family from Queensland, Australia organised activities for their children so they could enjoy the talks and music while the family watched the sessions of General Conference.
"The word 'Easter' took on a new excitement this year as we let the girls each take a lolly each time they heard that word during conference," Hayley says. The children also listened for other words, such as "Jesus," "Christ," "faith," "prophet," and "love."
"After the first talk, the bowl was empty and we had to change it. After a break we did jelly bean bingo which was a hit. The girls are already looking forward to the next General Conference in October!"
Ruby Hugo travelled to the United States from New Zealand so she had the opportunity to attend General Conference in person. "I've had the wonderful opportunity of attending training in Salt Lake for work," Ruby said. "This came with a chance to attend two sessions of conference. Being in the Conference Center with so many people who are here to worship Christ has been one of the highlights of my life. I'm so grateful to be reminded by our Prophet that my contribution to the world does make a difference."
Vic Saunders, an American serving as a missionary with his wife in New Zealand, said, "I am so grateful for modern televisions, that contain the technology that allowed my wife and I to watch the Saturday Sessions of General Conference via the YouTube app, built in to the TV, on Sunday April 2, in New Zealand. It is truly a testimony of our Heavenly Father's love for us, that this wonderful technology has been created to spread his word throughout the world in such an easy way! Besides the occasional YouTube commercial, it was awesome!"
Aleni Fuatimau and Viiga Fuimaono, visiting from Samoa, met with Sister Jean Bingham, former General President of the Relief Society, before a conference session.
Aleni said, "The messages shared during general conference gave me the strength to continue on the covenant path. Some messages were so personal for me. The Spirit testified of the love Heavenly Father has for me and all His children as I listened to the talks and the music."
Debbie Wilkins, from Australia, said, "Watching at home was great. And inviting someone over to watch with you was great. The person we invited would have been on their own. Having someone else gives different perspectives on the talks, as we all see and hear differently."
Following the conference, President Russell M. Nelson posted an Easter message to the world:
https://youtu.be/cb6UGnSEDi4