The President of the Republic of Kiribati, His Excellency Taneti Maamau, and First Lady Teiraeng Maamau, hosted a dinner reception for visiting member of the Pacific Area Presidency of The Church of Jesus Christ of Latter-day Saints, Elder Taniela B. Wakolo, and his wife, Anita H. Wakolo, on Saturday evening, 14 January 2023.
The dinner took place at the State House in Bairiki, Tarawa, Kiribati.
Area Seventy (regional leader), Elder Iotua Tune, and his wife, Maii, were among the invited guests.
Elder Wakolo expressed his gratitude to President Maamau for being a champion in protecting religious freedom.
He also invited President Maamau to attend the Tarawa Kiribati Temple groundbreaking, when that occurs; and the temple open house when the building is completed.
Elder and Sister Wakolo presented President Maamau and the First Lady Teiraeng Maamau with a framed picture of Jesus Christ.
Two small choirs of former Latter-day Saint missionaries provided some of the music for the occasion. They had returned home to Kiribati after spending 18-24 months ministering to people and communities in Kiribati, Africa, Australia, USA, England, and the Philippines.
President Maamau said to the group of returned missionaries, "Your country is very proud of all of you."
During Elder Wakolo's visit, he travelled with the Kiribati Vice President, Honourable Teuea Toatu, and his wife, Madam Toatu, to Abaiang Island.
They met with the Mayor, Madam Nei Ua Ariera, and presented a donation of laptops and screens, as part of the Church's effort to support education in Pacific nations. The resources will be used to enhance teaching in secondary schools.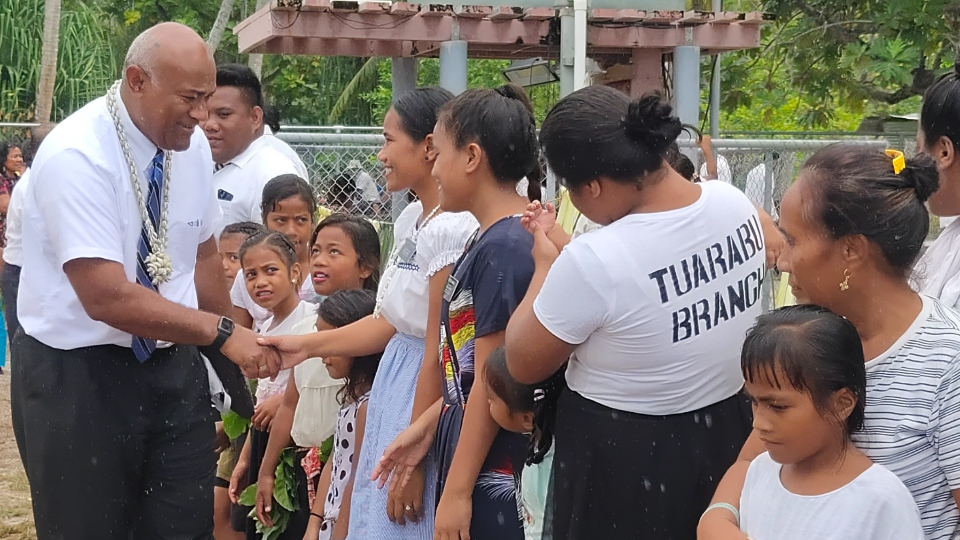 Elder Wakolo and Sister Wakolo also took the time to reach out with kindness and care to people in Kiribati, greeting them one by one, and expressing God's love for them.
Kiribati (pronounced Kee-ree-bus) is an island nation in the South Pacific. More than 22,000 Latter-day Saints live there, comprising about 20 percent of the population. The Church announced plans to build the Tarawa Kiribati Temple in 2020.