Elder O. Vincent Haleck of the Pacific Area Presidency of The Church of Jesus Christ of Latter-day Saints met with The Honourable Mark Gilbert, Ambassador of The United States of America to New Zealand and Samoa today in Wellington.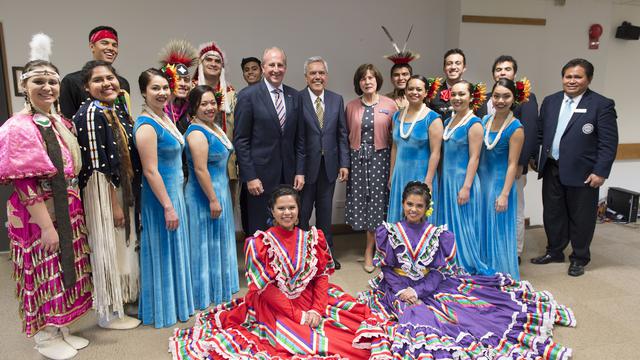 Accompanying Elder Haleck were members of the Brigham Young University Living Legends cultural performing group.
Speaking after the event, Elder Haleck expressed gratitude to Ambassador Gilbert for the warm welcome extended by US Embassy officials.
"We and the BYU group very much enjoyed meeting Ambassador Gilbert and Embassy officials today."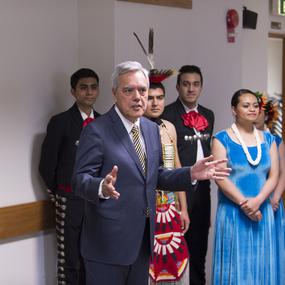 Speaking of the young BYU performers, he said, "They absolutely love the cultures of the Americas and the South Pacific. They are also extremely talented and want to share their talents and these cultures with others through dance and music."
"Even though they come from many different cultures, as we all do, they help us to remember that we are one, as children of God."
He added, "Music and dance are common to all cultures. But it's more than just the music and dance, it's the spirit that these activities generate that binds us together as brothers and sisters." 
Elder Haleck will preside at a special devotional in the Wellington suburb of Haitaitai tonight, which will also feature remarks and songs by members of the BYU Living Legends group.
The group will perform on Thursday night at Porirua's Te Rauparaha Arena at 7pm. For more information, click here.
They then fly to Tonga and Samoa for more shows before heading home to the United States.
Elder Haleck is currently First Counsellor in the Church's Pacific Area Presidency. In August he will begin service as the President of the ecclesiastical region that includes New Zealand, Australia, Papua New Guinea, and the islands of the South Pacific.
There are over half a million Latter-day Saints in the Pacific Area in congregations from Perth to Papeete, and Daru to Dunedin. There have been missionaries, members and congregations of the Church in the South Pacific since the 1840's.
See an excerpt of this story in the Deseret News Church News here.