A group of members of The Church of Jesus Christ of Latter-day Saints from Papua New Guinea flew to Sydney recently to worship in the Sydney Australia Temple of the Church.
A temple has been announced but not yet constructed in their homeland.
Elder K. Brett Nattress, a member of the Pacific Area Presidency of the Church, and Elder Robert Gordon, Area Seventy, were in Sydney at the time of the group's visit, and met the Papua New Guinean saints at the temple.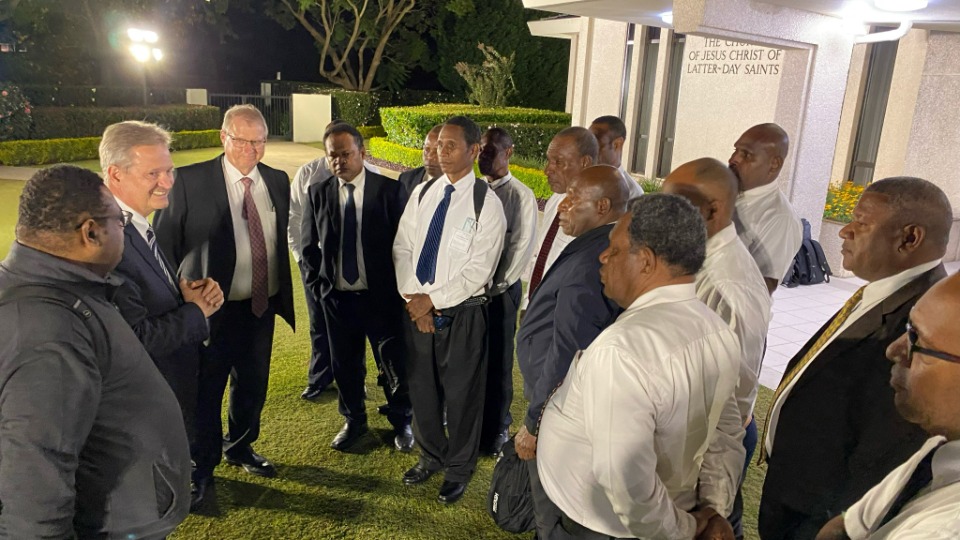 Sasa Zibe is a Church leader in Papua New Guinea. He said it was "a very uplifting and spiritual experience."
"The temple was a highlight of the trip as I haven't been to the temple since September of 2015 when Sussan and I got sealed for time and all eternity. But going back and attending this one session provided for me a renewed perspective of the significance of the covenants and what they mean to me personally and my family."
Temples are sacred places for members of The Church of Jesus Christ of Latter-day Saints, where Church members worship God, learn more about Jesus Christ, and participate in ordinances that join families together for eternity.
Temples are different to meetinghouses in the Church, where Sunday worship services and other meetings and activities take place each week.
There are around 800 Latter-day Saint meetinghouses in the Pacific Area, and 10 temples. Seven more temples have been announced or are under construction in the South Pacific region.
The Hamilton New Zealand Temple has been closed for four years for renovations and will open to the public for tours from 26 August to 17 September. The temple will be dedicated on 16 October, after which members of the Church who are following the teachings of Jesus Christ, as taught in the Church, will worship in the temple.