Searching family history, sometimes referred to as genealogy, consistently ranks at the top of reasons why people go online.
With the tap of your finger or the click of a mouse you can quickly find your ancestors and access copies of their vital or other records via multiple websites, such as FamilySearch.org.
Next time you enjoy this marvel of technology, take a moment to appreciate the unheralded, often solitary efforts of digital record preservationists around the world who painstakingly labour in church buildings, government record centres and libraries to convert ink-on-paper records into digitized versions for your instant viewing.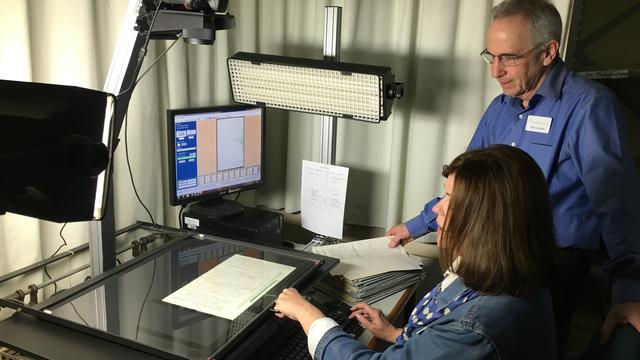 Many of these cyber saints, working in obscurity, do so as uncompensated volunteers.
So who can't help be happy for such an unrecognized lot from Dunedin, New Zealand who organized a celebration when they reached a significant milestone: the millionth digital image of probate records originating from Southland New Zealand courts between 1864 and 1998?
"As our project approached the one million image total, we thought it would be fun to have a contest among the archive staff," said Debbie Edward.
She and her husband Bart Edward are volunteers from The Church of Jesus Christ of Latter-day Saints from America serving in the Archive New Zealand office in Dunedin for the past 11 months. They have been working exclusively on the probate digitization project which began in February 2014.
The contest was to guess closest to the day, hour and minute the millionth page of probate records would be digitally photographed.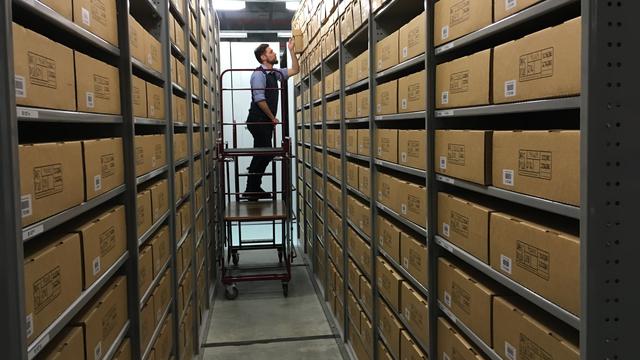 "The staff we work with at the Archives New Zealand are clever, enjoyable people that work very hard yet appreciate a reason to celebrate," she said.
When the day arrived the winner was patted on the back, a medallion was hung from her neck, and she was given a modest gift.  But the big prize was receiving a plastic statue the Edwards named Will, after the term "Last Will and Testament" which is found in most probate records.
"While I would love to be able to claim that it was the workings of my brilliantly mathematical brain that won me the coveted Will statuette and a selection of delicious cheeses, I have to confess that it was in fact a wild last-minute random guess," said Alison Loughrey, the winner.  "I flew in on a wing and a prayer!"
Amy Coleman said, "A million images is a fantastic achievement. We had great fun taking part in Debbie and Bart's competition. I spent a lot of time calculating my guess and was really disappointed not to win as I was desperate to have "Will" sitting on my desk!"
Office fun aside, archivists take their valuable work seriously.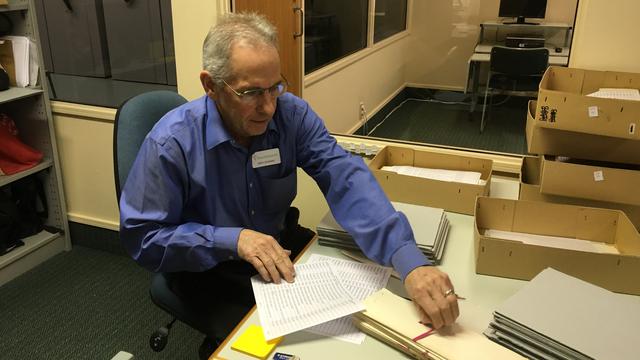 "The collaboration between FamilySearch and Archives New Zealand's Dunedin office has proved to be very rewarding," said Anne Jackman, director and regional archivist for Archives New Zealand.
"Staff on the ground in Dunedin have learned about the lesser known tricks of the records hosted on the FamilySearch site, and we've all enjoyed sharing some cross-cultural time with each other."
After each page of a probate record is digitally photographed it is uploaded to FamilySearch.org. This preserves them permanently and allows instant access to the records via the internet.  
By any standard, a million probate images digitized is a significant accomplishment.
"People ask me all the time how do you take one million digital images. One image at a time," quipped Bart Edward.
He and his wife Debbie expect to complete the entire project in a few months.  When completed the probate records of over 100,000 deceased New Zealanders, who lived and died in Southland, will be permanently preserved.
The million images represents the probate records of over 86,000 people as each court probate record contains multiple pages of valuable information about the deceased's life, family, and associates.
FamilySearch, formerly the Genealogical Society of Utah, is fully sponsored by The Church of Jesus Christ of Latter-day Saints. It hosts, preserves and shares billions of records in paper, microfilm and digital formats.
The collaboration between Archives New Zealand and FamilySearch is similar to those the Church has around the world.  FamilySearch provides labour, equipment and hosting of the digitized records and Archives New Zealand ensures its valuable records are permanently preserved.