LaMar L. Layton and Lynnette S. Layton, a Latter-day Saint couple serving as leaders for a group of about 200 missionaries in Fiji, completed three years of service on June 30.
Days before they returned home, they said they were leaving with loving memories of the missionaries and other people they served.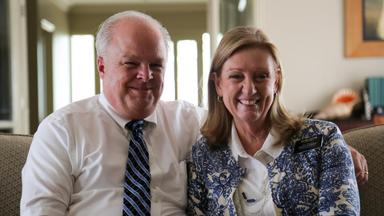 President and Sister Layton recently reflected on many of the experiences they have had serving in the Fijian Islands.
One of the most memorable was when Cyclone Winston hit several islands including mainland Viti Levu, on February 20, 2016.
"The cyclone was headed straight for Suva on Saturday," said President Layton.
"At the very last minute it turned and went north, and went down between the two major islands. If it had hit Suva, there would have been thousands dead."
During that same week-end a cultural celebration and rededication of the Church's Suva Fiji Temple had been scheduled.
"We had all the missionaries together at the Samabula Chapel," Sister Layton said.
"The miracle was that we had all of them in for the dedication of the Temple. Some of those areas (occupied by missionaries) got hit really hard, so we had every one of them in that chapel."
A guiding principle for President and Sister Layton when they faced adversity comes from a passage in The Book of Mormon: Another Testament of Jesus Christ (1Nephi 3:7). It reads, "I will go and do the things which the Lord hath commanded, for I know that the Lord giveth no commandments unto the children of men, save he shall prepare a way for them that they may accomplish the thing which he commandeth them."
Following the storm, as President and Sister Layton went and made an assessment of the outlying areas, they didn't know what to expect, and felt a little overwhelmed. The damage they witnessed was indeed sobering, they said, but the faith and resilience of the people was inspiring.
"I went up to Taveuni Island right after the cyclone and normally everything is green," President Layton said.
"There wasn't a leaf on the tree. Everything was brown. There wasn't a house that was standing. Every one of them had been blown over and you look at the people and they are just totally devastated. And wow what do we do?"
He went on further to say, "(But) people are resilient, they built tin homes, so after the storm they go out in the field and gather up their tin and bring it in. I asked some of the people, 'What do you need?' 'Hammer, crowbar, nails. That's all we need, we'll build it back up again.'"
He notes another experience. "There was one family (that) had a porch (and) there was a crawl space under (it). (And) there were 26 people including babies that went under there and when the storm was over the whole house was gone except for that one porch."
President and Sister Layton say they loved the Fijian people and their time with the missionaries. When Sister Layton was asked what she wanted them to remember her by, she said, "If you remember nothing else, remember that I have a testimony of the gospel."
President Layton said, "We've taught them five attributes that we feel will help them to be successful missionaries and if they can just remember those five attributes which are to be 'exactly obedient', to 'work hard', to 'be teachable', (know that) 'attitude is the key to success', and to 'have a strong relationship with the Lord', they will succeed."
They concluded with these thoughts, "Our philosophy is… as you come into the mission field (new from the airport) you were very dependent on your parents, you were dependent on society, you were a consumer in society. Now for two years we are going to teach you how to be independent, and a producer in society. They step up, and it's just a miracle the change that takes place."
Sister Layton added, "The missionary program of the Church is just genius, how it teaches young people to go forward in their life. And the skills they learn here they could never learn at college. My favorite thing is to watch them come in and then when they leave, to see what they've become."
The missionaries were challenged to make this Book of Mormon scripture their guide, "Behold, I am a disciple of Jesus Christ, the Son of God. I have been called of him to declare his word among his people, that they might have everlasting life." (3Nephi 5:13)