The Auckland New Zealand Mt Roskill Stake of The Church of Jesus Christ of Latter-day Saints will host a community dawn service and flag raising ceremony on Anzac Day, Monday, 25 April.
The service will begin at 6.30am at 147 Pah Road, Royal Oak, Auckland.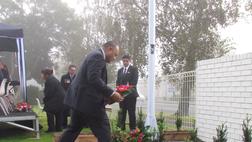 Community leaders and members of the public are invited to join local members of the Church in remembering and honouring those who have served their country over the years.
"We look forward to joining with our friends and neighbours in marking this important day, and in paying our respect to those who have served our nation, and who currently serve," Anthony Wilson, president of the Auckland New Zealand Mt Roskill Stake said.
"The freedoms we enjoy as a people—including the freedoms to believe, to worship and to live as we choose—are deeply significant and speak to our souls. We honour all those who serve or who have served, and those who have paid the ultimate sacrifice to allow us to benefit from these God-given freedoms—to do and to be as God and our consciences guide us."
The Church recently produced a new Anzac commemoration video, titled, "We will remember them."
ANZAC stands for "Australian and New Zealand Army Corps," and Anzac Day falls each year on 25 April.