Elder K. Brett Nattress, of the Seventy, and a member of the Pacific Area Presidency of The Church of Jesus Christ of Latter-day Saints, met with Stevie Wheatley, Fundraising Coordinator for KidsCan Charitable Trust on Tuesday in Takapuna, New Zealand.
Elder Nattress thanked Ms Wheatley and her colleagues, as well as all others who support the work of KidsCan throughout New Zealand.
"We are inspired by your generous service to the children of New Zealand," he said.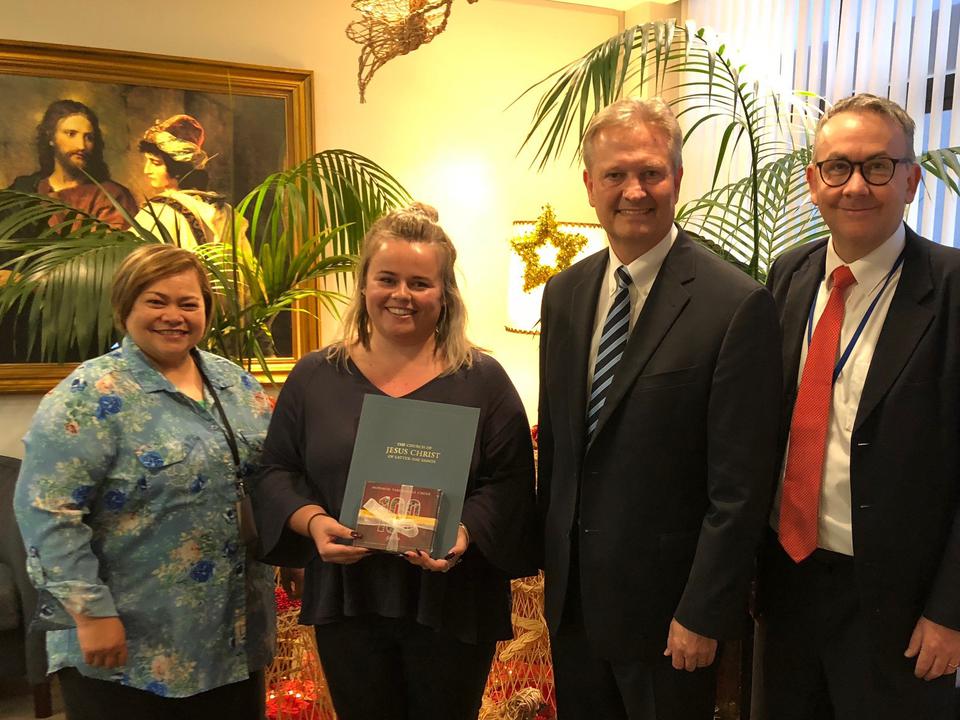 Elder Nattress presented Ms Wheatley with a donation of $5,000 from The Church of Jesus Christ of Latter-day Saints to support the charity in its ongoing efforts to relieve suffering in the lives of children, and to empower them to achieve more at school and beyond.
The donation was made possible due to the contributions of members of The Church of Jesus Christ of Latter-day Saints in New Zealand and overseas. It was made in conjunction with this year's#LightTheWorld Christmas initiative which encourages people to serve those in need in their own homes, their neighbourhoods and throughout the world.
Also in attendance at today's meeting was Richard Hunter, Pacific Area Director of Public Affairs; Elder Ron and Sister Kathy Williams, senior missionaries with the Church who are serving as National Directors of Public Affairs for New Zealand; and Victoria Fitisemanu, who works for the Church's Seminaries and Institutes of Religion.
Read more about KidsCan here.
Watch a video about the Church's approach to supporting parents as they raise their children; anda second video about some of the ways the Church helps families and individuals in difficult circumstances.
Watch other videos: