On 30 October The Church of Jesus Christ of Latter-day Saints honoured Mr Mataika Baleilomaloma Koyamainavure, a 51-year-old Tuirara (church steward) and lay preacher for the Raiwaqa Circuit of the Methodist Church.
The Suva Fiji Stake of the Church recognised Mr Koyamainavure with a "Family Values Award," as a thank you for his service as a father, faith leader, rugby coach and mentor for the young people living in the Raiwaqa area.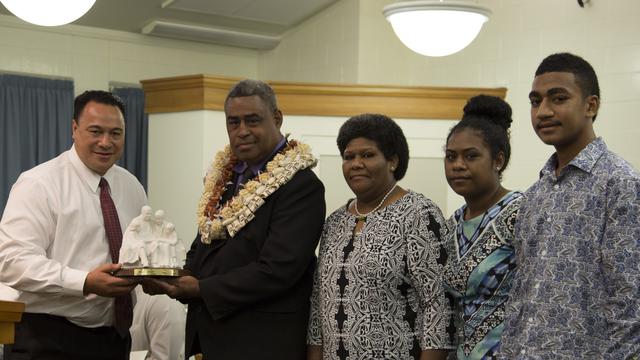 Mr Koyamainavure was also honoured for being a peace-maker in his own community and beyond.
Mr Koyamainavure works in the Prime Minister's office as a Client Support Officer in the Clients Services Unit that handles grievances and concerns raised by the public.
Mr Koyamainavure said on Sunday that, as a father, he "always tries to be available for his family, to carry out what needed to be done and to help his children and his family."
He said one of the greatest difficulties in people's homes is not listening, and that "this can lead to a lot of problems."
Mr Koyamainavure has nurtured a culture of listening in his home, with his rugby players, at work and wherever he goes, so people can foster an environment of joint learning and problem solving. 
Latter-day Saint leader, Elder Adolf Johansson, said "Mr Mataika Komainavure has been an inspiration to his community through his efforts to bring people together to talk over local issues.
"As a representative of the Prime Minister's office he has been a listening ear for many people and community groups. He is a family man who loves his wife and children and he advocates for all citizens of Fiji." 
Elder Johansson added, "We are so pleased to recognise him as a friend not only to the community but to The church of Jesus Christ of Latter-Day Saints in Fiji."
The Church recognised the outstanding service of many other individuals and groups across the Pacific Area on Sunday evening in similar devotionals.