Church leaders had the opportunity to hear children share their faith in God the Father and His Son, Jesus Christ, during a Brisbane devotional of The Church of Jesus Christ of Latter-day Saints on Wednesday evening, 13 September. This devotional was specifically for the children of the Church.
This was a children's devotional from start to finish, with Thaddeus, a 10 year old boy who conducted the meeting. Ella, 11, played the organ; Lola, 8, sang a solo; and Luke, 9, led the singing. Children also offered the opening and closing prayers.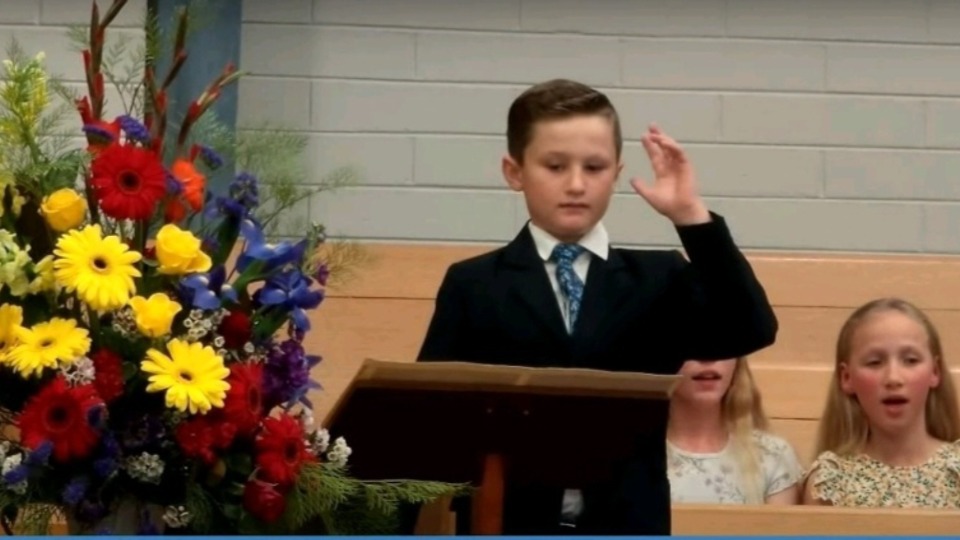 Sister Amy Wright, a counselor in the Primary General Presidency, has been visiting the Pacific Area this week. Recorded segments of her teaching and interacting with primary children in Fiji were shared. Sister Maurer then invited comments and participation. Parents and leaders watched and listened as their children shared powerful feelings, doctrine and testimonies of the Saviour. At the conclusion the children drew pictures that showed how they strengthen their faith in Jesus Christ. Several had an opportunity to explain their picture from the pulpit. Those in attendance were reminded of the words the Saviour shared in 3 Nephi 17 when he said, "Behold your little ones."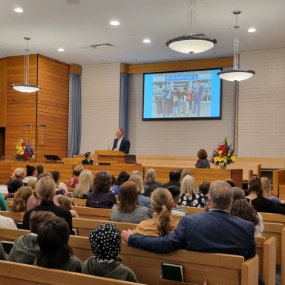 When asked to share their experiences, Evelyn said, "My favourite part was seeing Sister Wright on the screen."
Luke remarked, "I follow Jesus by keeping the commandments, following His path, and doing good deeds to others."
The children also viewed a video presentation from President Russell M. Nelson. He explained to the children, "Maybe you think you are young and can't do great things, but by small and simple things, great things are brought to pass. The Lord can use you to gather Israel and prepare for the Saviour's return."
The children gasped when they learned that President Nelson had more than 100 great grandchildren under the age of 12!
Oliver, 10, shared, "I feel more faith in Jesus when I go to church each week and partake of the sacrament. I follow Jesus by going to church and helping my family."
"I strengthen my faith by praying everyday," said Ella. "I can share my testimony every month and listen to sacrament meeting talks to see how I can apply them to my life."
Senior Church leader Elder Wayne Maurer also spoke during the devotional, inviting the children to continue to build their faith in Jesus Christ. He showed the children a picture of Jesus Christ, surrounded by little children, as requested by Sister Wright. This picture hangs in her office reminding her how important the children are to Jesus.
Elder Maurer then asked them to study the picture and share their thoughts. The children were able to identify themselves in the picture. He concluded his remarks with an invitation to the children, stating, "We hope that you go forward building upon your faith in Christ."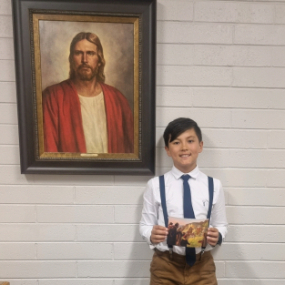 As children left the devotional, they each received their own copy of the picture to take with them as a reminder of what they learned during the evening with Sister Wright.
Earlier this month, the Church posted a "Friend to Friend" broadcast online, especially for children around the world. The purpose of the broadcast was to help young people strengthen their faith in Jesus Christ, just as they were invited to do in Brisbane, Australia.
To view the broadcast, click here.