Brother Douglas D. Holmes, first counselor in the Young Men general presidency of The Church of Jesus Christ of Latter-day Saints, and Brother Tad R. Callister, Sunday School general president, visited Samoa last weekend.
Brother Callister was accompanied by his wife, Sister Kathryn Louise Callister. Brother Holmes is traveling with his wife, Sister Erin Sue Holmes.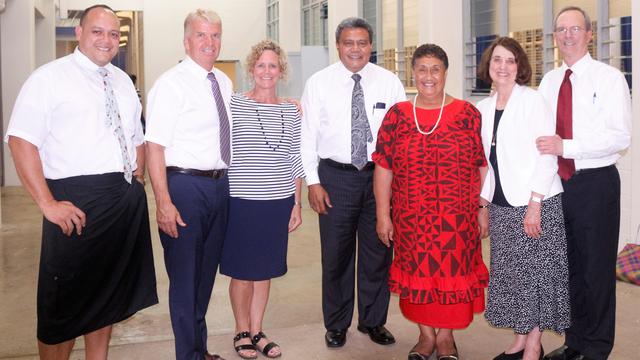 At a meeting in Apia on Friday 10 November, Brother Callister said, "Our goal as teachers of the gospel of Jesus Christ should be to teach His principles and doctrines as He taught them."
Suggesting that sincere, prayerful preparation should be completed well before teaching, Brother Callister offered those who teach several additional keys to preparation. He encouraged teachers to first read the scriptures that relate to the topic and then prayerfully plan the lesson. "Write down and use the spiritual impressions you receive as you prepare," he said.
Brother Callister encouraged teachers to invite the Holy Spirit to assist them in teaching the doctrines of the gospel of Jesus Christ and to involve all class members in the lesson discussion.
Citing Church founder Joseph Smith Jr. as an example, Brother Callister invited teachers to ask the Lord questions and seek answers from Him as they prepare. "Many of the revelations the Prophet Joseph Smith received were the result of him asking questions of the Lord."
Brother Holmes talked about ways to help youth, especially young men, to develop faith in God and Jesus Christ.
Other Church leaders attending the meeting included Elder Meliula M. Fata Area Seventy, and his wife, Sister Ponaivao L. Fata.