Three leaders from The Church of Jesus Christ of Latter-day Saints spoke to young men and their youth leaders throughout New Zealand last night.
Around 500 attended a special devotional meeting at the Church's Redoubt Road, Manukau stake centre, with hundreds more participating in the gathering by satellite broadcast in their local church building. 
Leaders in attendance included Elder S. Gifford Nielsen of the Pacific Area Presidency; Stephen W. Owen, general young men president of the Church; and Brian K. Ashton, second counsellor in the Church's general Sunday School presidency.
Elder David J. Thomson, Pacific Area Seventy from Hamilton, New Zealand, conducted the meeting.
Brother Ashton encouraged the young men to regularly read the scriptures and to apply the principles and lessons learned.
"It's important to read and ponder every day," he said.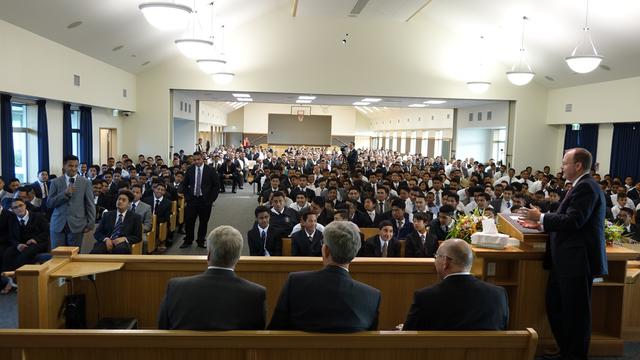 Brother Owen urged the teenagers to look for opportunities to lift others as they go through life.
"We need to be good examples and rise up to be men of God," he said.
Elder Nielsen reminded those participating in the devotional that they would have many opportunities to serve others throughout their lives. 
"In the future you will be leaders in your families, in the Church and in your communities," he said.
"You need to learn your duty in your religious responsibility and to act in all diligence."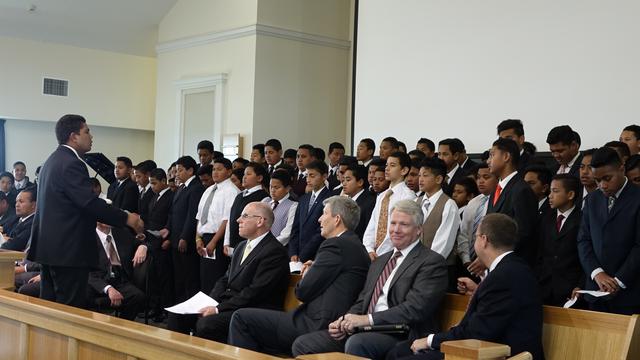 Elder Nielsen also invited the young men to understand they have their own agency to choose righteous principles and then go to work. 
"The Lord has always given us choice and accountability," he said. "But there are consequences with the decisions we make, as the scriptures teach us. We can have liberty and eternal life, or captivity and death. What sounds better?"
He urged the teenagers to learn to be responsible and to follow the teachings of the president of the Church, Thomas S. Monson, "who encourages all of us to rescue those around us who need our help."
Watch short introductory videos about Latter-day Saints: