On 28 July 2018, The Church of Jesus Christ of Latter-day Saints hosted the 12th National Interfaith Forum dinner at the Haitaitai meetinghouse in Wellington, New Zealand.
Missionaries from the Wellington New Zealand Mission and Latter-day Saint leaders conducted tours of the building, provided "We are the World" themed buffet dinner, entertainment and opportunities to share for all those attending.
Alan Thacker, who is serving a full-time mission for the Church with his wife Wendy, was the keynote speaker.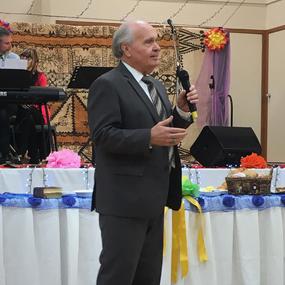 They accepted an invitation from the Church to help members and friends learn self-reliance principles, as well as looking for ways to serve the community in which they reside.
Prior to their mission, Elder Thacker taught at Weber State Institute of Religion in Ogden, Utah, USA. One of the courses he especially enjoyed and taught for 12 years was, "The Gospel and World Religions."
Speaking on "Why Faith Matters–Preserving Religious Liberty for All," he shared some observations with those gathered.
"The Dalai Lama was once asked about the resolution of tensions that existed in the Middle East," Elder Thacker shared, "since most of them were religious in origin."
He continued: "His answer surprised all those listening with his response. He thoughtfully said, 'I think we need more picnics.'"
"The simple solution was not what everyone expected from one so learned."
"That is what we are doing this evening—we are sitting across from each other at tables enjoying a picnic. We are getting to know each other and sharing what we have in common," said Elder Thacker.
Watch a short video about civility and kindness.
Mormons believe as stated in the eleventh Article of Faith,  "We claim the privilege of worshiping Almighty God according to the dictates of our own conscience, and allow all men the same privilege, let them worship how, where, or what they may" (Articles of Faith 1:11).