Today in Suva, Elder Craig A. Cardon of the Pacific Area Presidency of The Church of Jesus Christ of Latter-day Saints thanked H.E. George Konrote—Head of State and President of the Republic of Fiji—for his work to help people with diabetes.
Elder Cardon was accompanied by Elder Adolf Johansson and other Latter-day Saint representatives at a special luncheon with the Head of State at the Church's Fiji Service Centre.
President Konrote is a leader in the nation in the field of reducing the impact and incidence of non-communicable diseases including diabetes.
Elder Cardon thanked the Head of State for his support and advocacy on behalf of individuals, families and health professionals throughout Fiji.
President Konrote thanked the Church for inviting him to lunch and for the work it was doing to help people with non-communicable diseases.
He said there was a need to "change people's mindset and attitudes towards life," adding that "family unity was falling apart in the world as well as in Fiji."
The Head of State said that he wanted to "unite a nation that was healthy," and that he strived to be a good example himself by exercising regularly and growing nutritious food in his own garden.
He hopes that all Fijians would "plant their own gardens so they can live healthy lives and not depend on processed and fast foods."
On behalf of the Church, Elder Cardon gave His Excellency a leather bound set of scriptures (Holy Bible, Book of Mormon, Doctrine and Covenants, Pearl of Great Price) and a statue of an adult male talking to a boy, titled "Bridges."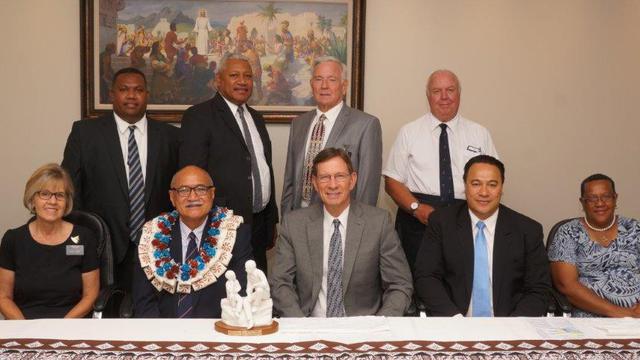 Elder Cardon explained that the statue was to represent the Head of State's support of family and education in addressing non-communicable diseases.
As President Konrote spoke of his example of planting his own garden, not being dependent on others, and of the blessings of God when we care for ourselves and others, Elder Cardon told him that we could name him king Benjamin, a king known in the Book of Mormon who expressed similar things and was loved by his people. Elder Cardon then showed His Excellency where he could read of king Benjamin in the scriptures which had just been presented to him.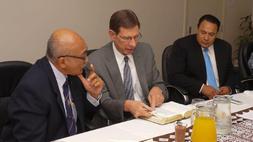 Also during the luncheon, Elder Dean Clark, a missionary with The Church of Jesus Christ of Latter-day Saints and a podiatrist, shared some of the humanitarian efforts that the Church is supporting in Fiji to alleviate suffering and help people become healthier and more self-reliant.