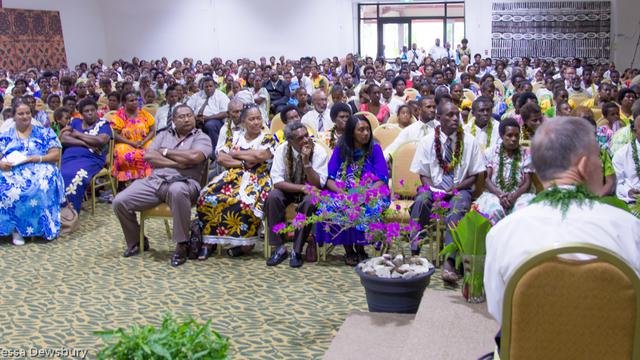 Approximately 2,000 members and guests of The Church of Jesus Christ of Latter-day Saints gathered at the Fenea Pacifik Convention Centre in Port Vila on Sunday 21 June to witness the creation of Vanuatu's first Latter-day Saint stake.  
A stake is a Latter-day Saint term for a group of congregations in a geographical area, similar to a diocese in other Christian churches.  The Port Vila Vanuatu Stake will comprise over 2,000 members who worship in eight chapels.
Elder Kevin W. Pearson, president of the Pacific Area of The Church of Jesus Christ of Latter-day Saints, presided over last weekend's conference. Elder Adolf Johansson, a Pacific Area Seventy in the Church, accompanied Elder Pearson.
Danstan Hilton, Minister of Justice and Religion, was accompanied by his wife Rosina as special guests at the historical event and were among the first to congratulate the newly called stake presidency: Yvon Jacques Basil as Stake President, Thidjinelia Kalmet Kalpoi as First Counsellor and Paul Arongon Kaun as Second Counsellor.
Preparations for this historical event began many months ahead of the original date in April of this year, but the event was postponed when Cyclone Pam affected 22 of the 83 islands that make up the country of Vanuatu. The category five storm struck with devastating force on Friday 13th March, many homes were damaged or destroyed, valuable export crops were decimated, and tragically 11 people lost their lives.
The people of Vanuatu still smile easily, in spite of their losses. They have grown even closer as a people by going to work immediately after the cyclone disaster. They have shown the world their resilience as they rebuilt their homes and villages.
Three months post-Cyclone Pam, much to the delight of Latter-day Saints in Vanuatu, the stake has now been created.
During his conference address, Elder Pearson highlighted the benefits and spiritual strength that will come from having a stake in Vanuatu.  Elder Pearson thanked the Hon. Minister and his wife for taking time to attend the conference; and he spoke about the importance of religious freedom in Vanuatu.
He also pledged the Church's support to the people of Vanuatu should they be misfortunate and experience another natural disaster. In his final blessing to the Vanuatu Saints, Elder Pearson promised them the Lord will protect them as they obey His commandments.
The first Latter-day Saint missionaries arrived in Vanuatu in 1974 and by October 1996 the first district of Ni Vanuatu members was organized with a membership of over 600. 
Newsroom contributor: Tessa Dewsbury