Professor Fred E. Woods, from Brigham Young University in Provo, Utah, USA, was recently interviewed on ABC Radio's "The Spirit of Things."
"In 1855, the Julia Ann was wrecked on a reef in Tahiti, with the loss of five lives," ABC Radio's website states. 
"The ship was carrying an unusual cargo at the time: Mormon converts from Sydney bound for Utah. Fred Woods tells an extraordinary tale of shipwreck, survival and faith in the face of ruin."
Listen to the interview here.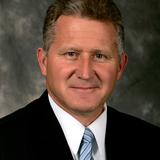 Fred E. Woods, a religion professor at Brigham Young University (BYU) in Provo, Utah has lectured in many countries on the subject of interfaith relations. He formerly held the Richard L. Evans Chair of Religious Understanding at BYU Provo.
Professor Woods has a keen interest in Australia, New Zealand and the South Pacific. He served a two-year mission in Adelaide as a younger man and has written two books and produced two historical documentaries about Latter-day Saints in Australia.