Volunteer communication specialists from New Zealand and the islands of the South Pacific met in Auckland this week to discuss ways to help members of The Church of Jesus Christ of Latter-day Saints, and others, to meet the challenges and opportunities of life as individuals, families, congregations, and communities with faith in Jesus Christ.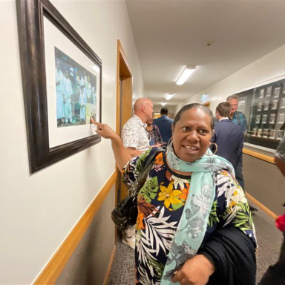 Communication representatives from Australia, New Zealand, New Caledonia, Vanuatu, Kiribati, Tonga, Samoa, American Samoa, the Cook Islands and French Polynesia, gained insights into the Church's 2023 Pacific Area focus, and discussed ways they can help others understand the focus, and apply it in their lives.
"Even though I have served in my calling for a while, this is the first time I've been to a conference like this," said Lua Langi, communication director from Tonga. She continued, "It has truly been a spiritual, uplifting gathering, and I learned so much. I feel it has prepared me for anything that may come my way."
A similar feeling was expressed by Barbara Babel Ungerer, communication director from New Caledonia. "It's so nice to share experiences and to see how things work in other countries, and to feel the support and that you are not alone."
District President Tamatoa Jonassen, of the Cook Islands, said while the communication portion of the conference was uplifting and informative, it was the explanation of the 2023 Pacific Area Focus that he believes will be the most helpful to him in his calling. "If we can help people understand the value of
receiving the sacrament and then working towards the blessings of exaltation in the temple, this will truly make a difference that can change the world around us."
Other representatives at the conference included New Zealanders Traci Tuimaseve, Todd Miller, and Muriel and Sonny Samuela; Aleni Fuatimau, Samoa; Kalilimoku Hunt, American Samoa; Reita Ienraoi, Kiribati; Noelline Parker, French Polynesia; and James and Christiane Tounguen, Vanuatu.
These volunteers are supported by the Church's Pacific Area communication team, which includes Area Director Richard Hunter, Assistant Director Tania Torea, Area Communication Specialist Jeff Cummings, and Communication Specialist Missionaries Elder Corwin and Sister Christine Hair, Sister Mary Clark, Elder Vic and Sister Kelley Saunders, and Elder Bart and Sister Debra Pace.
Joining them in their training was Area Relations Manager Kim Woodbury, of the Church Communication Department.
Communication volunteers also serve in Church communication councils in Australia, Papua New Guinea, Fiji, and other parts of the world.