On the morning of 19 February, children across French Polynesia sat down in front of a computer or their parent's smartphone, where they watched, listened, sang, drew pictures and participated in the worldwide virtual program called "Friend to Friend."  
The program was produced by the Primary organization of The Church of Jesus Christ of Latter-day Saints for children ages 3 to 11.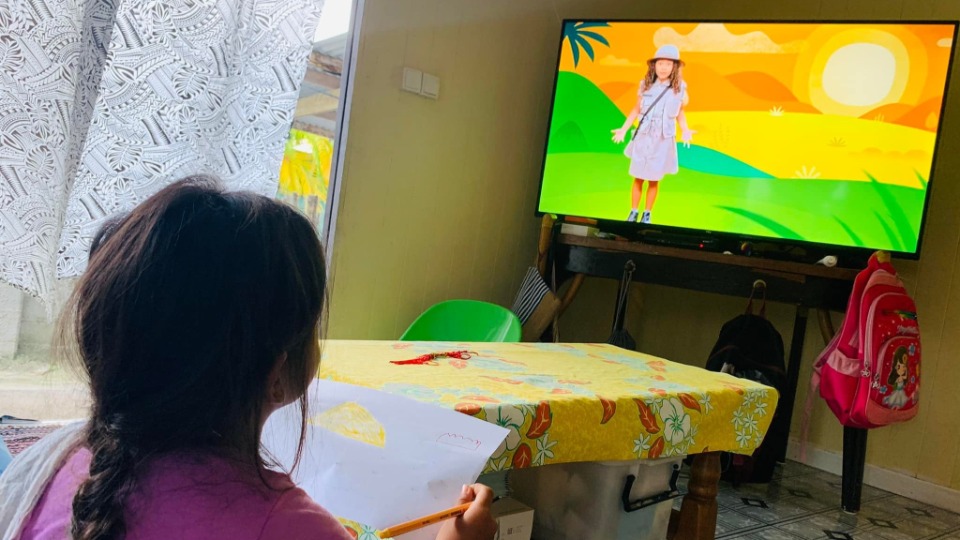 Eager children did not want to miss this opportunity to learn more about their Saviour, baptism, church meetings and the Holy Ghost through fun animations and visits from members of the Primary General Presidency. 
Children and some of their parents in French Polynesia and New Zealand had lots of comments after the show:  
Meily T, 7: "I loved the show because I will be baptized at the end of the year. I was happy to know there was a baptism of fire. On November 12, it will be my turn to be baptized. I watched the second Primary show from Makemo, an atoll in the Tuamotu islands. I am grateful to know that baptism is an ordinance and covenant I want to make with Heavenly Father. My favourite activity was to learn how to design the cover of my diary and follow the instructions." 
Heiana M, 8: "It was so cool to see children hosting the show.  I enjoyed the activities that helped me understand the principle and importance of baptism and the Holy Spirit. And it helped me remember my baptism a few weeks ago. I have decided to keep a diary from now on." 
Avehei M, 10: "What I liked the most is when Sister Porter played the piano and accompanied the singing. I really like when she told us when she started playing the piano, she made a lot of mistakes, but her parents helped her and she continued to learn and practice. I know if I do something and if I'm wrong, my mom and dad will be there to help me." 
Keanu, 8: "I loved it when Sister Porter played on the piano the song: How did the Father give? I also liked the story of the little girl who was baptized because I too invited my friend Noé to my baptism in April 2021. Now I want to do my best to obey the commandments of God by loving my sister Avehei." 
Jayden T, 4: "It was great, I liked everything." He asked his mother to watch the Primary broadcast again and again.  
Ivann T, 8: "My favourite moment was when the girl was baptized. It reminded me of my baptism, not long ago." 
 Kirtland T, 8: "I have recently been baptized. My experience of entering the waters of baptism is quite special. I felt excited and I strongly felt the Saviour by my side. I am grateful I made this important decision." 
Kingston T, 9: "I was baptized in 2020. I am so glad I did. I am always reminded of my baptismal covenants and I am striving to keep them. I am grateful for the gift of the Holy Ghost which helps me make good choices." 
Dolenne Tarati, a mother of young children who watched the broadcast, said, "This program is perfectly adapted to young audiences… the pace is pleasant, the teaching is accessible and well-illustrated. It was uplifting but also fun and interesting. My four-year-old son stayed attentive from start to finish!! And I love the final invitation to share his feelings about the Holy Spirit. I want to watch it again, at our family home evening. I want my teenagers to enjoy it as well." 
Local congregations are now setting up special meetings in their local chapel for all their Primary children and leaders to watch it together.  
The complete program is available here.