Young women in Adelaide, Australia have been busy meeting the first #My 150 Challenge. The challenge is for youth to do something uplifting associated with the number 150 to commemorate the 150th anniversary of the Young Women organisation of The Church of Jesus Christ of Latter-day Saints in 2020.
13-year-old Evelyn Lau shares, "This year I've been working on my social, intellectual, physical and spiritual goals. One of my physical goals was to improve my volleyball skills. So, I joined a volleyball club to help me practice and understand the movements better.
"I also practiced with my school friends at recess and lunch. I've been working on this goal for six months and now I play in club competitions and help teach others on the school teams.
"Playing volleyball has helped me to feel more confident and healthier. I also feel closer to Jesus Christ by making goals that help me to grow. I prayed for help when I felt nervous about playing in a team and the Holy Ghost helped me to be calm and prepared for training."
Another Adelaide teenager, Charlotte Clark, age 13, chose an unusual service project.
She says she started collecting bread tags after she heard about an organisation that recycles them, and in exchange, the organization donates wheelchairs to people who need them in South Africa.
Charlotte's grandparents were missionaries in South Africa, so serving the people there was important to her. She set up collection stations at her school and church and soon her containers were filled.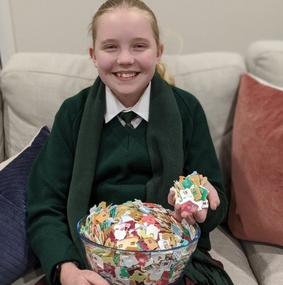 "I've been collecting for 18 months now," Charlotte says, "and have collected about 9kg (20 lbs), which is over 25,000 bread tags. It made me feel good that I was helping people in South Africa who didn't have access to wheelchairs they needed. I knew I was following Jesus Christ because I know that He helped people in need."
These young women, along with many others from the Church's Adelaide Australia Firle Stake, have been learning to crochet scarves and beanies for those experiencing homelessness in Adelaide. They started making scarves first, then learned how to make beanies, which, they found, required more concentration and persistence.
Knowing that their acts of kindness emulate Jesus Christ has helped the young women to feel the love of their Saviour and fueled their enthusiasm to help those less fortunate.
Although the Young Women organisation has changed over the last 150 years, past and present come together in helping young women draw closer to Jesus Christ and develop spiritually, intellectually, socially, and physically.