Presiding bishop of The Church of Jesus Christ of Latter-day Saints, Bishop Gérald Caussé, met with French Polynesian president Édouard Fritch on Thursday 23 February in Papeete.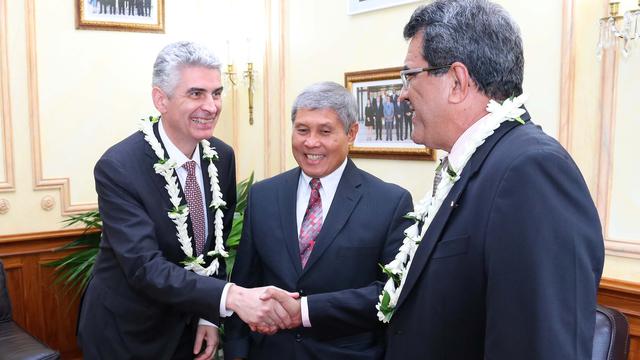 Bishop Caussé, who was accompanied by his wife, Valérie, and Elder Benjamin T. Sinjoux, an Area Seventy, visited with the French Polynesian leader at the President's Office in the capital city of Papeete.
Bishop Caussé, who is a French native, is the first presiding bishop of the Church to to visit French Polynesia, where the official language is French.
During the visit Bishop Caussé expressed gratitude to the French Polynesian government for supporting the activities of the Church in this South Pacific territory and recognized the Church's growing role and increased visibility in the Islands.
President Fritch expressed his appreciation for the Church's assistance following recent heavy rains and damaging floods in Tahiti.
More than 400 "Mormon Helping Hands" volunteers participated in clean-up efforts in the community of Pirae after the flooding, which left a large number of people homeless.
"We could feel their devotion. There were people of all ages, youth, adults and children who did everything that was necessary, collecting fallen tree branches, sweeping and cleaning. It was extraordinary," President Fritch said. "Their desire to serve was very strong."
Nearly one in 10 French Polynesians is a member of The Church of Jesus Christ of Latter-day Saints. The ninth Latter-day Saint stake (group of congregations) was created in January and LDS meetinghouses are well-known landmarks throughout the islands.
Bishop Caussé and President Fritch also discussed the principles and resources of the Church's Self-Reliance Services which are helping both Latter-day Saints and friends of the Church improve their ability to provide for their temporal and spiritual needs.
Self-reliance is important issue in this country of nearly 280,000, where poverty and unemployment are serious problems.
During the meeting, Bishop Caussé presented President Fritch with copies of the three manuals that are used as a part of the learning and teaching experience for individuals participating in Self-Reliance groups.
President Fritch said he recognized that all the fundamentals for self-reliance are contained in the Church's program and said he would invite his cabinet director to follow the program, starting with a visit to one of the Church's Self-Reliance Centres.
In addition, Bishop Caussé presented President Fritch with a small Christus statuette, as a reminder of the centrality of the gospel of Jesus Christ in the lives of many French Polynesians.