Children in the one of the poorest orphanages in Northern Myanmar, a country in Southeast Asia, will be warmer this winter thanks to the beanies and scarves created by the women's service organisation (The Relief Society) of the Gold Coast Australia Stake of The Church of Jesus Christ of Latter-day Saints. 
The clothing was recently donated to the Pu Pu Khin Foundation for Orphanages in Myanmar.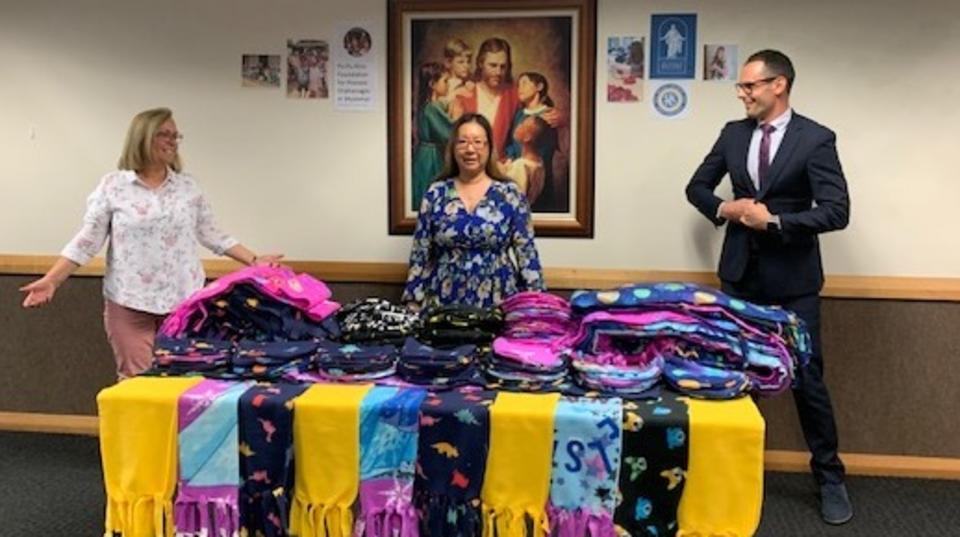 President of the Foundation, Carolyn Tierney, explained, "The orphanages we support are not government funded and only survive on the generosity of people's donations like this."
The women of the Relief Society in seven congregations had planned to give service just before the COVID pandemic hit worldwide. Undeterred, they sewed the beanies and scarves while in self isolation lockdown.
On 20 July 2020, Daniel Shine, president of the Gold Coast Australia Stake, and Penny Owen, the Relief Society president, met with Carolyn Tierney to deliver the scarves and beanies.
President Shine remarked, "We are grateful for the opportunity to assist the Pu Pu Khin Foundation with the great work they are doing." 
The not-for-profit organisation supports children in the poorest orphanages in Myanmar, typically in remote, rural, northern areas. 
Many of the children have become orphaned because of the conflict which has become one of the world's longest ongoing civil wars.
The organisation also works hard to provide money to purchase medicine for people suffering from leprosy as well as providing clothing, food, and bedding for these remote orphanages.
Penny Owen explained, "Whilst a monetary donation is often preferred, our greatest strength as a Relief Society organisation was to engage in a project that put our hands to work. When we learned how cold Northern Myanmar was and how appreciated some beanies and scarves would be... we chose to celebrate the Relief Society Anniversary with this service project." 
President Shine praised the volunteers. "Our sisters see a need and jump in immediately to meet that need — they are incredible examples!"
In the October 2019 General Conference of The Church of Jesus Christ of Latter-day Saints, President Russell M. Nelson said: "Latter-day Saints, as with other followers of Jesus Christ, are always looking for ways to help, to lift, and to love others. They who are willing to be called the Lord's people 'are willing to bear one another's burdens, … to mourn with those that mourn; … and [to] comfort those that stand in need of comfort.' They truly seek to live the first and second great commandments. When we love God with all our hearts, He turns our hearts to the well-being of others in a beautiful, virtuous cycle." The Second Great Commandment, Russell M. Nelson, October, 2019.