Elder D. Todd Christofferson of the Quorum of the Twelve Apostles of The Church of Jesus Christ of Latter-day Saints met with members and friends of the Church in Adelaide, Australia on Tuesday 23 May. He is visiting Australia and New Zealand this week with his wife, Sister Katherine Christofferson.
Speaking during a devotional on Tuesday evening, Elder Christofferson conveyed to Adelaide saints love and greetings from President Russell M. Nelson, president and prophet of The Church of Jesus Christ of Latter-day Saints.
Elder Christofferson said that after we make covenants, or sacred promises with God, "God is free to let His power and influence into our lives. Covenants bring us closer to God through a bond that God will never break."
Quoting President Nelson, he said, "Once we make a covenant with God, we leave neutral ground forever."
Speaking of the process of becoming perfected in Jesus Christ, he said that "we come unto Christ and then we are perfected in Him. We don't become perfect and then come to Christ."
Elder Christofferson emphasised the need for all of God's children to constantly repent.
"The Atonement of Jesus Christ takes away the stain of sin," he said.
He recounted the experience of "meeting with a woman who had been involved in grievous sins." Elder Christofferson was initially "shocked at her lifestyle, but after sincere repentance, light shone in her face and countenance."
He continued, "It was clear to me that she was one of the purest souls I had met. She had been transformed by the grace that comes with the Atonement of Jesus Christ. She had become a 'new individual.'"
"If it could happen to her, it could happen for me, and all of us, because no one here is beyond the power of His reach," Elder Christofferson said.
"It is not always easy to fully repent, but with the Saviour's help, we can," he said. Years ago, Elder Christofferson prayed to know if there was anything in his past that he needed to repent of. The Holy Ghost brought some minor incidents to his mind, so he went about to make things right. He expressed how glad he was that he did, as he felt that a burden had been lifted from him as he spoke to some people to whom he may have needed to apologise.
"Time doesn't take away the sin, repentance does," Elder Christofferson said. "I realised that as we repent, the burden of sin is taken away by the Lord's Atonement. We don't have to worry about judging another, because if we did, we might make a mistake. But the Lord's infinite understanding and mercy will not."
Sister Christofferson spoke of visiting a dear friend of hers from Nashville, Tennessee. The friend was an expert piano player and a graduate of the Juilliard School. Sister Christofferson is not an expert pianist like her friend.
Sister Christofferson said that her friend wanted to play together. She was very nervous but did her best. They played the hymn "Come, Follow Me" together, and other hymns, for an hour or so.
"We should always do our best, no matter our ability, and the Lord makes up the rest, the difference. He lifts us up when life gets difficult," she said.
Elder Taniela Wakolo of the Pacific Area Presidency of the Church also attended and spoke at the devotional.
He bore testimony that "God the Eternal Father lives, He knows you and I by name."
He thanked youth for attending the devotional, and for "being in the moment."
"When we are in the right place at the right time, everything works out. Because you chose to be here tonight, everything will be different for you."
Elder Wakolo encouraged youth to attend Seminary (a religious education class for teenagers) and to "walk in truth by attending Church meetings and the temple, and to always have a current temple recommend."
Members of The Church of Jesus Christ of Latter-day Saints believe that families can be united for eternity by the power of God, through faith and faithfulness, and by participating in sacred ordinances or ceremonies in Houses of the Lord, or temples.
Elder Craig Raeside, Area Seventy, spoke about gaining answer to prayers. He recounted that as a 14 year old he prayed to know if Heavenly Father would answer his prayer. He had a feeling of "profound love that Heavenly Father knew me, and later, that The Book of Mormon was true, and because of that feeling, again, by extension, that Joseph Smith was divinely appointed as a prophet, and that all prophets since then were called of God."
Quoting President Nelson, Elder Raeside said, "The best is yet to come for those who lift up others."
One attendee at the devotional, Maddie, said, "When Elder Christofferson said that none of us are out of the Saviour's reach, we all have access, I felt an overwhelming feeling of love that Christ has for me and each of us across the world."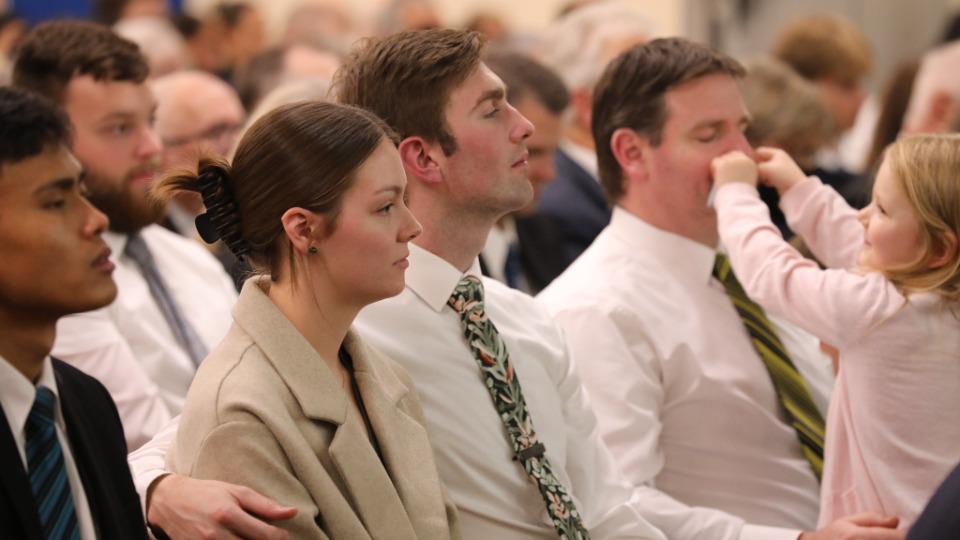 Adelaide Latter-day Saint, Jamie, said, "Having Elder Christofferson here in Adelaide is Exciting. As an Apostle of the Lord, he receives specific revelation for us, the Saints in Adelaide, and that is exciting."
Another attendee, Lesen, said, "When I heard Elder Christofferson say that each of us has a place in the Lord's heart, I felt the Spirit testify that what he was saying, as a special witness of Jesus Christ, was true. The Lord loves you and me individually."
Earlier in the day, Elder and Sister Christofferson, and Elder and Sister Wakolo, met with missionaries from the Church's Australia Adelaide Mission.
Elder and Sister Christofferson visited Melbourne and Hobart last weekend. Later this week they will meet with members and friends of the Church in Darwin, Alice Springs and Auckland.