Elder D. Todd Christofferson of the Quorum of the Twelve Apostles of The Church of Jesus Christ of Latter-day Saints met with approximately 1,800 youth and young adults of the Church on Friday 19 May in Melbourne, Australia.
Melbourne is the first stop for the Apostle who is visiting six cities in Australia and New Zealand over the next several days.
Elder Christofferson told the young people it was a privilege to be with them, to see the light in their eyes.
A part of the evening was dedicated to receiving questions from attendees, and responding to them.
"You are in the crucial phase of this last dispensation," Elder Christofferson said. "Covenants, temples, scriptures in our hands, it is a wonderful time to be alive. We have the scriptures and live in a time when we can act for ourselves. What did you do to deserve that? We may or may not deserve these blessings, but we have them. Show Heavenly Father your appreciation by acting on it."
Speaking of the power of reading and applying the principles of the Book of Mormon, Elder Christofferson said, "The Book of Mormon is a very special scripture and has a wonderful converting power. There is something in the book that resonates with us that Jesus is the Christ, Joseph Smith is a prophet."
He urged all in attendance to "study the Book of Mormon continually. The converting power of the Spirit comes with the Book of Mormon. It's essential in preparing for a mission and in being a missionary."
Elder Christofferson shared some counsel regarding understanding one's identity.
"What could be more significant than to know that we're not an accident of evolution. God ordained and enacted. We are creations of God, spirit and body. He obviously has an interest in us. He has so much love for us that He gave his only Begotten Son to redeem us. He wants us to have all He has."
Speaking of the power of Jesus Christ to lift hearts and lives, Elder Christofferson referred to Mosiah 26:30 in the Book of Mormon: "As often as my people repent, I will forgive them their trespasses against me."
He continued, "The Saviour is saying to us, 'Keep trying. You can overcome. Work a little harder. I'm with you.'"
"The grace of Christ is transforming. There is an infinite and comprehensive reach of the Atonement of Jesus Christ."
He said, "Today, we're surrounded by philosophies and constant messages that are anti-Christ, anti-standards."
"They are constant on social media and ever-present with us. You were born now because you can deal with this. You have the potential to deal with this more ably. All you need is to call on the Lord to strengthen you, to have His Spirit always to be with you. Come to the sacrament prepared. Is there anything I should do to prepare? Should I apologize to someone? Even small things are significant. Partake of the sacrament again and again."
"God says to us, 'I will baptize you with the Holy Spirit and you will have the help you will need.'"
Elder Christofferson said, "I sense the depth of love that Heavenly Father and the Saviour have for you. They know the best way to help you and respond to you. They won't force anything on you, but they are ready and willing. These blessings are real."
Listen to some young attendees sharing their takeaways from the meeting.
Elder Peter F. Meurs, a General Authority Seventy in the Church, and a member of the Pacific Area Presidency, also spoke at the devotional.
"Our lives are deliberately full of difficulties and challenges," Elder Meurs said. "We need to learn how to overcome challenges. We have to learn to live with a physical body. When born, we experienced a body for the first time. As you got older, we faced more challenges and trials. King Benjamin [a prophet from the Book of Mormon] described some of those challenges when He described the "natural man": feelings of anger, fatigue, sexual desires, hunger."
Elder Meurs continued, "King Benjamin taught that we can overcome the natural man or woman by heeding the Spirit and putting off the natural man through the Atonement of Christ. The Spirit entices me to do the next important thing in my life. Sometimes I don't want to. When I respond, trusting in Christ, He strengthens me."
Elder Damon Page, Area Seventy, lives in Melbourne and conducted the devotional.
He recounted how his son described that, despite their family's ancestry, the culture in their home is based on the Church of Jesus Christ, and that he identifies as a disciple of Jesus Christ. He related the experience of a teacher in Auckland who, when asked how she identifies, shared with her colleagues, "I identify as a Child of God."

Elder Page told the young people at the devotional: "You have Heavenly Parents who desire for you to fulfil your divine capacity and become like Them."
Elder Christofferson's wife, Sister Katherine Christofferson, also spoke at the devotional.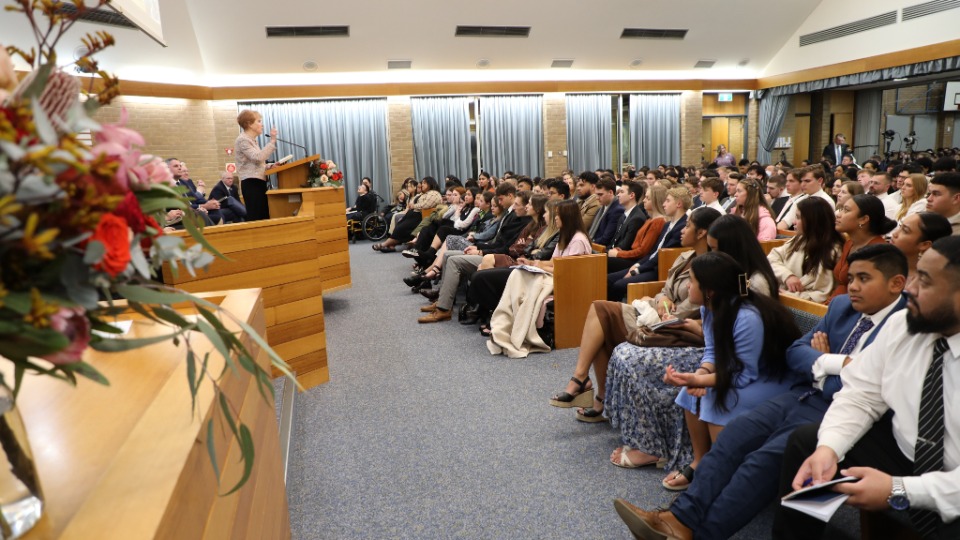 She said, "With the Lord's help, there are not limits to what you may accomplish. He gives us power and strength. You have a power within you that is tremendous. By small and simple things, great things are accomplished. By small and simple things, you will know that He lives and loves you. He loves to pour out blessings upon us."
One young attendee at the devotional, Ava, said, "I learnt that no matter what, God will always be there for us. He will never get tired of our voice and will always listen."
Here more comments about the devotional by viewing this Instagram video:
Watch an address given by Elder Christofferson at the April 2023 General Conference of the Church:
The Church of Jesus Christ of Latter-day Saints focuses on the work of salvation. This includes helping individuals and families live the gospel of Jesus Christ; caring for those in need; inviting all to follow Jesus Christ; and uniting families for eternity.