"I started ballet at age seven because I wanted to be a princess," says Bianca Carnovale, from Sydney, Australia.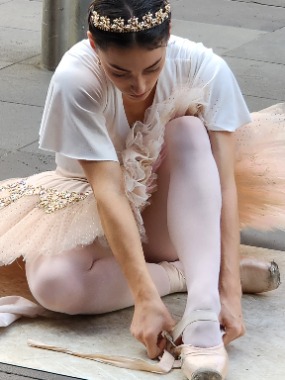 When she began her training, she soon faced the fact that most of the dance world does not stop to remember the Sabbath. She had to decide where she stood.
As a member of The Church of Jesus Christ of Latter-day Saints, Bianca strives to keep Sundays free from work and other activities that take her away from worship, family and helping others.
Bianca remembers having talks with her mother from as young as seven about dancing on Sundays. When she had to miss out on exams and performances she would often ask "Why was Sabbath observance so important?"
Because of those talks, Bianca began to understand that pleasing God was more important.
By age 14, one teacher, recognizing Bianca's potential to become a professional dancer, encouraged her to audition for the Pre-Professional Program at the National College of Dance in Newcastle, two hours away from home. Bianca was accepted. She lived there five days per week and came home on the weekends.
This prepared her for being on her own at age 17 in New York City, USA – where Bianca was accepted into the prestigious Ballet Academy East. There she continued her training and had the exciting opportunity to study the Balanchine ballet method.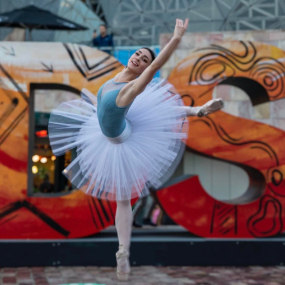 After training for just short of two years, the Covid pandemic shut down New York and sent Bianca home. Moving to Melbourne, she was hopeful of getting into the Australian Ballet Company.
However, lockdowns started again. Bianca missed performing. She started dancing in the park to get outdoors.
Her mother asked, "What if, when the lockdown ends, you start ballet busking?"
Bianca thought the idea was crazy.
But then she entertained the thought. She spoke with respected friends who
thought busking was a great idea. With their encouragement, the process began.
In her flat during lockdown, Bianca choreographed, then ventured to the city streets to perform. "At first, I only had headphones, but started dancing anyway. Then I got speakers."
She continued, "From there, I learned all the tips and tricks of busking: using cones and roping off a stage area, starting with introductory music, perfecting choreography. I learned how to manage a crowd. Busking was a whole new world."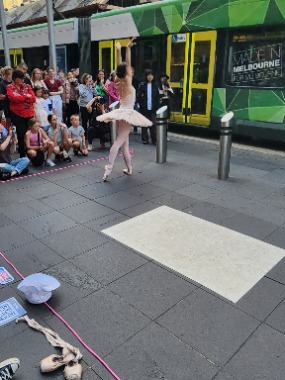 She still dreamed of getting into a ballet company. While busking, she kept training, and auditioned for companies.
One company that seemed interested in her asked "Why don't you rehearse or perform on Sunday, and then go to church?" With Bianca's insistence that Sabbath observance was more than just going to church, that opportunity fell through.
As of March 2022, Bianca has supported herself completely on busking.
Her faith in the Saviour and the influence of her mother has helped her in making difficult decisions in her life and has given her the strength to continue to press on despite her challenges.
By pursuing her dream to work for a company, Bianca has become a unique performer with true performance quality. "I always wanted a way to serve others more and now Heavenly Father has provided me with the opportunity to serve others in the most unique way!"
"I've noticed I can inspire and help people in a way that makes a difference. Though I don't usually watch the audience, I happened to see the glowing face of a 13-year-old girl while I was dancing one day. I've been that girl before, and I know that feeling. I can make people smile and cry; I wouldn't change that for anything."