"Ole ala i le pule ole tautua" (The pathway to leadership is through service)
90 year-old Samoan woman, Valaei Faloa'i Pritchard Taleni, is a loving matriarch in her family, and a friend to all who know her in her home village on the island of Savaii, and abroad.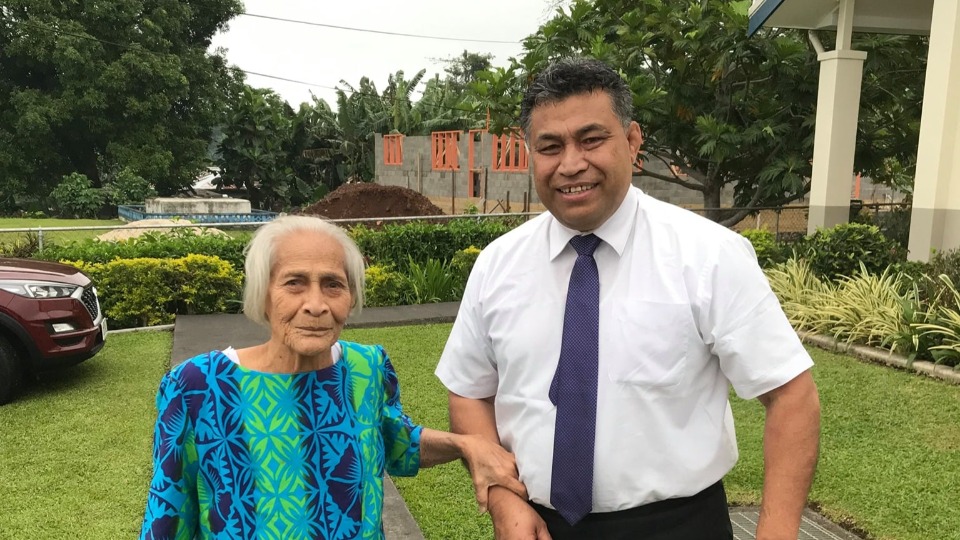 Her son, Leali'ie'e Tufulasi Taleni, is a senior lecturer at the University of Canterbury, and a bishop in the Mona Vale ward (congregation) of The Church of Jesus Christ of Latter-day Saints in Christchurch.
He says that his mother "is a true pioneer of The Church of Jesus Christ of Latter-day Saints in Samoa. Her great legacy comes from the demonstration of the Samoan values of tautua (service), fa'aaloalo (respect), osiosiga (reciprocity), loto alofa (generosity), fa'asinomaga (belonging), ola fa'a'eagaga (spirituality),  ola magafagafa (tolerance) and aofia faatasi (inclusivity) enveloped in the value of alofa (love)."
This year, Valaei celebrated her 90th birthday with family and friends. The milestone gave her and those who love her the chance to look back on decades of service to her family, her church, and her community.
Born and raised in the village of Tafua on the island of Savai'i, Valaei married Leali'ie'e Ova Taleni from the village of Vaiafai, Iva on Savai'i.
Valaei began her life in the Congregational Christian Church of Samoa (CCCS), also known as the EFKS church. Her husband introduced her to The Church of Jesus Christ of Latter-day Saints, and she was baptised in the McKay Branch (now a ward) on Savai'i.
Leali'ie'e and Valaei served in many Church callings over the years, including Leali'ie'e as branch president and bishop; and Valaei as Relief Society president, Primary president, youth and Sunday School teacher.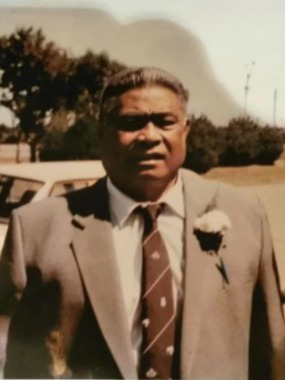 In 1976, the couple attended the Church's general conference in Salt Lake City, Utah, in the United States—leading to an article about their visit in Church magazine, "The Ensign" (now known as "The Liahona").
The couple raised 15 children including some who were adopted.
Her son, Leali'ie'e Tufulasi Taleni, says their mother was a "key support for Dad throughout his service in the Church, and in his role in the village as matai (chief title)."
She also served her family, her extended family, and her entire village throughout her life.
Valaei has been a strong advocate of bringing up girls and young women in the village, helping them prepare for their roles as mothers in their families and in the community.
She was heavily involved in the "women village committee" and the Church's Relief Society, supporting young mothers as they raised their children.
Bishop Taleni is grateful for his mother's "passion for supporting us all in our education – this goes beyond her own children." He says that she supported children from their extended family and village, "making sure they went to school."
He recalls that "Mum used to run a shop in the village. That shop was very much operated not only to support our family but to help villagers with their basic needs." In later years, the shop was a hub for helping people with welfare needs.
"Mum is known for her generosity, hard work, and love for people. She was very organised and always conscious about making sure the family was well fed and looked after, with a clean house." He said that the health and wellbeing of the family was always important to her.
Underpinning her life is her faith in God. "All her life she has studied the scriptures regularly, and prayed and fasted faithfully. These are all part of her spiritual nourishment," her son says. "She totally believes in tithing and contributing to fast offerings."
Valaei continues to be a supporter of missionary service. Bishop Taleni remembers that their "home was the home of missionaries in the village for many years. She called these missionaries her own children, took care of them in many ways."
Seven of her own children and ten of her grandchildren have served missions for the Church.
Valaei also loves worshipping and serving in the temple.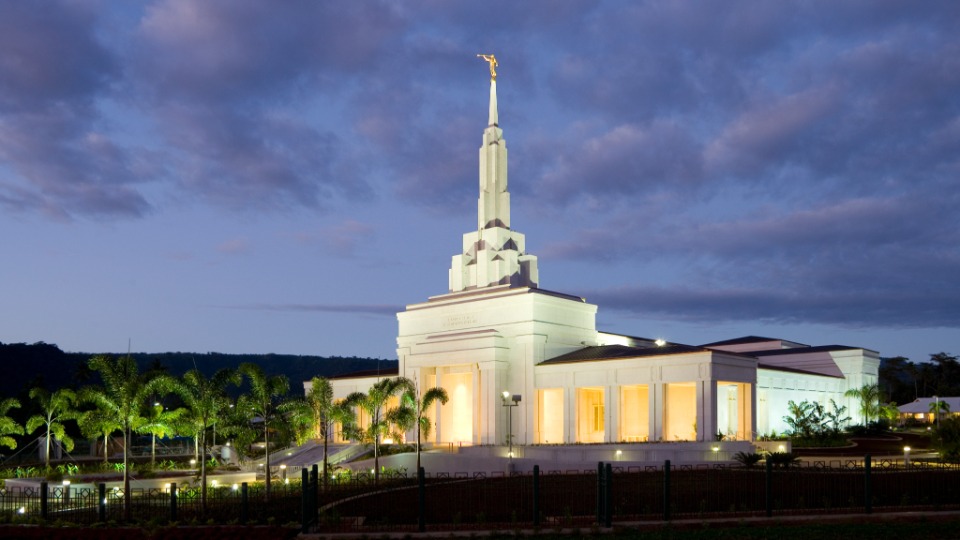 In her spare time, Valaei loves working in her flower garden and vegetable garden.
Over the years she has been an active proponent of "saving things for rainy days," Bishop Taleni says. "She is a strong believer in self-reliance. She taught us all to work hard, be self-reliant, and help others."
Her children and grandchildren are carrying on in the same spirit as she has lived and served for many years.
One of her sons has been serving as principal for the Church College in Samoa for a number of years. Her oldest daughter has been working in the area of social welfare in New Zealand for a long time. Bishop Taleni has been very active in Pacific education with his role at a university and in education sectors.
Many of her children and grandchildren continue to serve in the Church, also.
The Church has grown over the years on the island of Savai'i. "When Mum joined the Church, during that time there was only one stake or district in the whole island, now there are six stakes," Bishop Taleni says. "She is grateful that she is still here on earth to experience and witness the growth of the Church on Savai'i."
He continued: "The Church is growing and this is the outcome of their testimonies of love, service, perseverance, commitment to the Lord," Bishop Taleni says. "Mum has seen many changes, many developments, Church events, programs, activities and services over the years. These have contributed to the growth of the Church. The missionary work and ministering have been huge on the island. Many miracles have happened. Mum and Dad's own missionary service as Church leaders over the years have led to remarkable experiences. They left our own home village and moved to where the Lord called them to serve."  
Villages they lived and served in include Saipipi, Salelologa and Safotulafai.
Valaei grew up in poverty. This was not uncommon in many families in her village. She was a hard working woman all her life. She persevered, making a lot of sacrifices for her children, her siblings' children, and other members of the extended family, and wider community.
Despite suffering from a number of sicknesses during her life, her testimony of faith helped her conquer those health challenges.
"Almost 10 years ago when she was so unwell at the hospital," her son recalls, "she was told by medical practitioners that they were unable to cure her illness. Mum was discharged and our family continued with fasting and praying. She had so much faith, something that she teaches us all, her children and our children."
"Her natural beauty and faith remind us of a 'penina (pearl) in the deep ocean," Bishop Taleni says. "Through darkness, the pearl's pebbles or gems continue to shine below the deep ocean. It reminds us as family that during dark times in our lives, Mum's faith and trust in the Lord continue to strengthen and motivate us to carry on."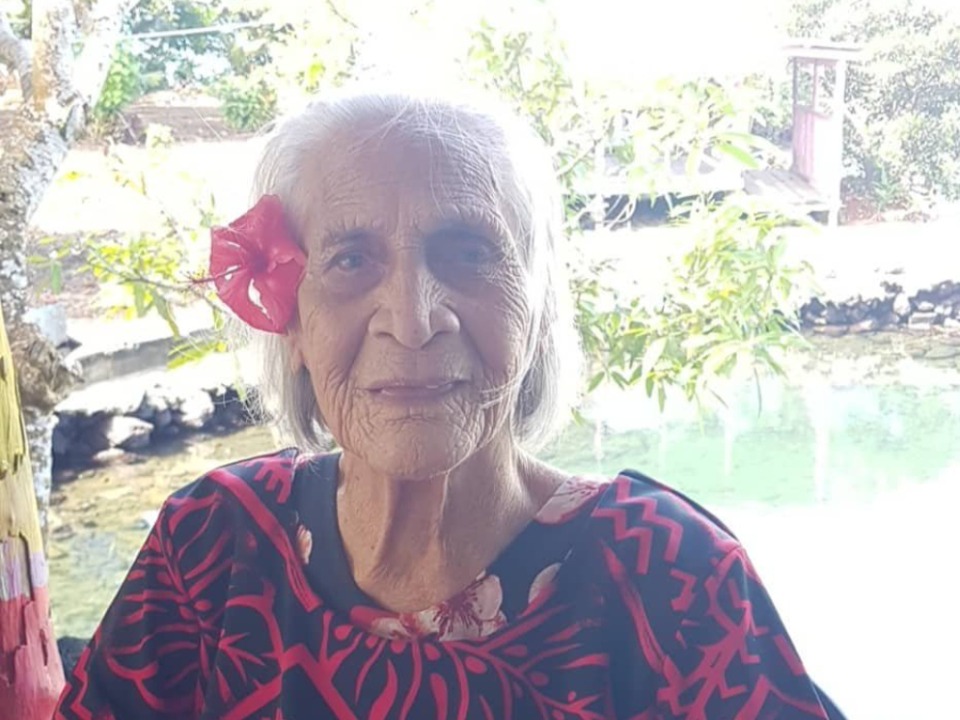 There's a saying in Samoan, "e gase toa ae ola pule," which refers to the legacy of a leader. Although he or she may be experiencing old age, his or her legacy lives on through service.
"This really wraps up Mum's whole story of service," Bishop Taleni says. "She's now at this age of her life, she may not be able to do much physically, but her legacy speaks volumes and will be forever in the hearts of her family, her children, grand-children, great-grandchildren, great-great-grandchildren, her village and community, and in the Church to which she belongs." 
"E o'o lava i ogasami sousou e mafai lava ona folauina – even choppy sea can be navigated."