Specially invited dignitaries and guests as well as hundreds of BYU–Hawaii students and Tongan community members joined His Majesty King Tupou VI, King of Tonga, and Her Majesty, Queen Nanasipau'u, and members of their entourage for the "grand reopening" of the Polynesian Cultural Center's recently renovated Tongan Village.
The Tongan royal couple reigned over the program on a beautiful Saturday morning, June 11, 2016, while sitting on a raised throne-like dais in front of the PCC's fale fakatu'i or scale-replica of the late Queen' Salote III's summer palace. The queen authorized its construction when labor missionaries, including a large contingent from the South Pacific, were building the Cultural Center in the early 1960s. The PCC opened on October 12, 1963.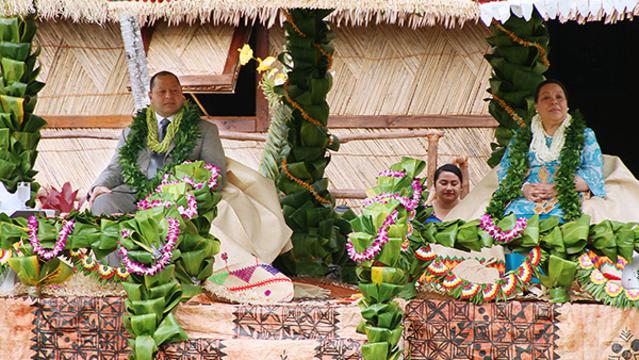 In opening the program, PCC president and chief executive officer Alfred Grace, who is originally from Turangi, New Zealand, said, "Here then in this beautiful Tongan village, we encapsulate all that is significant, worthy and meaningful to the Polynesian Cultural Center. It is a showplace for a magnificent culture. It is a place of growth and financial support for BYU–Hawaii students and community employees; and it is a place that will bless all who visit."
Later, speaking to the crowd in English, King Tupou VI thanked the PCC for inviting him, and pointed out that while his late parents had come several times, and he and his wife had come as tourists, "this is the first time we have come as guests with a formal function for the PCC, although it now seems like it's becoming something of a tradition for my family to visit."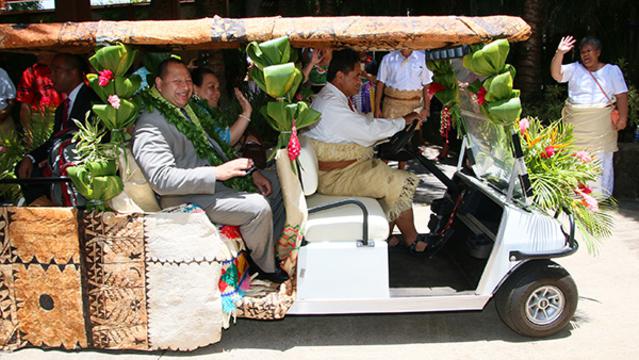 "It's a great idea that our young people can get to help spread their own culture here, as well as the Center helping them to contribute toward their further discipline and education," the king said.
"It's also useful to observe that the PCC is a place to mature in character, where students can develop and gain strength in their own individual traits in a safe and guided environment. Character is what makes us what we are in the long run. It is what we become for the rest of our lives."
He concluded his remarks by saying, "Finally, I would like to thank the Center and Brigham Young University for providing an opportunity for education for so many of my fellow islanders for so many generations."
During a banquet for the royal couple the previous evening, BYU–Hawaii President John S. Tanner pointed out that Tongans comprise the largest group of Polynesian students on campus.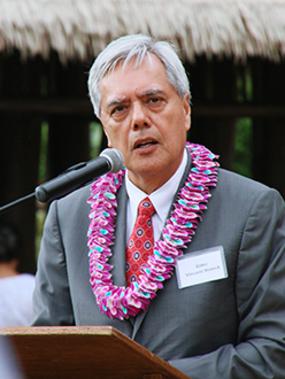 Next, Elder O. Vincent Haleck of the Seventy and First Counselor in the Pacific Area presidency, who is originally from American Samoa, noted that the PCC's evening show the royal party enjoyed the evening before, was "more than songs and dances. They reflect our very being, or who we are, the people of Polynesia, the people of the isles of the sea."
Then under the direction of the First Presidency and the Twelve, President Haleck offered a blessing on the latest renovation of the PCC's Tongan Village:
He blessed it that visitors would "come to appreciate those people who are here representing and reflecting the culture of Tonga. I bless it that it will be a place of peace, that it will be a place that will be protected from the elements.
"I bless it that as many many will come to this wonderful place that they will be touched in their hearts, that they will find tranquility, that they will indeed find a friendly people — friendly not only in their smiles, but more friendly in the richness of who they are in the cultures and the peoples that they represent.
"I bless it further that our children, as they come here to see the history and the architecture in this wonderful place, that they will come to know a sense of identity of who they are: Not only as people of the Pacific, particularly Tonga, that they'll understand their great identity as children of our Heavenly Father," Elder Haleck said.
Tongan protocol followed, with an oratorical exchange between his majesty's talking chief, Hon. Motu'apuaka, and Eric Shumway, a retired, former president of both BYU–Hawaii and the Polynesian Cultural Center. Even as a young missionary in Tonga, Shumway was widely recognized for his unusual abilities in the Tongan language, and in a rare move, he was given permission to accept the Tongan chiefly title Faivaola.
Speaking in Tongan, Shumway acknowledged the royals and all the other dignitaries. He also "recognized all those whose hands and hearts led to the building of the Polynesian Cultural Center and our presence here today."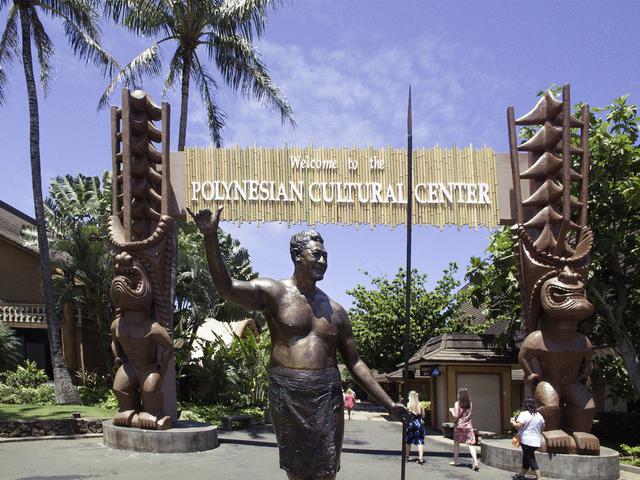 In accordance with Tongan custom, while he was speaking the student villagers brought out gifts for the king, including two huge cooked pigs. Later, each of the other villages at the PCC added more gifts and performed for the royal party; and finally, President Grace gave the king a large hand-sewn Hawaiian quilt and several boxes of chocolate-covered Hawaiian macadamia nuts to take home "as tokens of our appreciation for your attendance at today's events."
For the Friday evening portion of the royal visit, Elder Dale G. Renlund of the Quorum of the Twelve Apostles and his wife, Ruth, joined the Church delegation. Elder 'Aisake Tukuafu, Area Seventy for Tonga, and his wife, Lose, also were members of the party. Elder Tukuafu addressed the king in Tongan during a special luncheon program on Saturday. Shumway also spoke at a fireside meeting on Sunday evening in the Honolulu Tabernacle. That program included Tongan choirs from several other denominations, as well as members of the Kahuku Tongan Choir.
Story and pictures by Mike Foley, Polynesian Cultural Center