Representatives of The Church of Jesus Christ of Latter-day Saints met with Hon Rosy Akbar, Minister for Women, Children and Poverty Alleviation this week in Suva.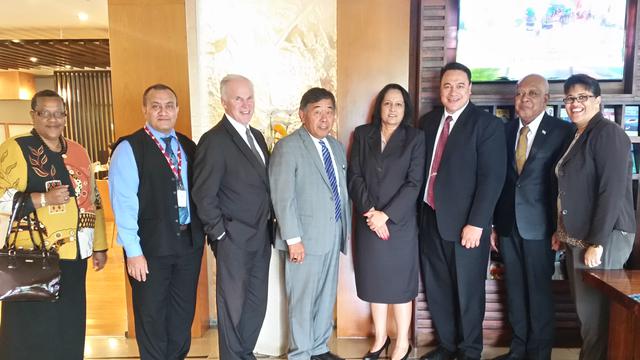 The group included senior Latter-day Saint leader, Elder Adolf Johansson; Pacific Area Legal Counsels for the Church, Arthur Edgson and Douglas Matsumori; and LDS National Director of Public Affairs, Sulueti Kama.
Minister Akbar was accompanied by officials from the Ministry.
During the meeting Minister Akbar shared some of the goals and initiatives of the Ministry for Women, Children and Poverty Alleviation. She spoke of success stories and areas of focus for the coming years.
The Latter-day Saint representatives shared with Minister Akbar and her colleagues some of the focus areas of the Church, including disaster relief, humanitarian aid, and efforts to help individuals, families and communities become more self-reliant. 
Elder Johansson thanked the Minister for her "kind and gracious" response to the meeting.
"We wanted to thank her and her staff for all they are doing to lift lives and strengthen families in Fiji. As a church we have many of the same objectives and wish to continue to work with government, other churches and groups to bless the people of this nation," he said.