Over 200 young and not-so-young members of The Church of Jesus Christ of Latter-day Saints performed in a cultural celebration on Friday night, 16 June, in the new David O. McKay Stake and Cultural Events Centre in Hamilton, New Zealand.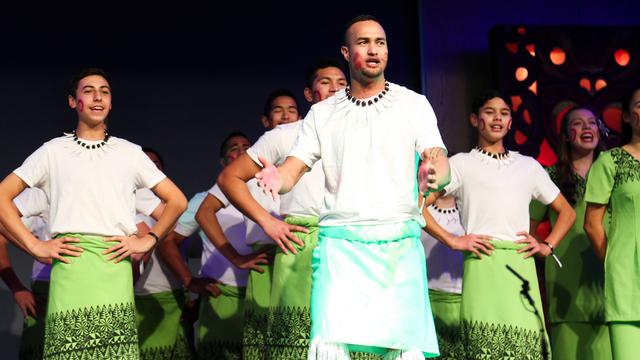 The dancers, singers and musicians performed for over 1,000 guests including President Henry B. Eyring, First Counselor in the First Presidency of The Church of Jesus Christ of Latter-day Saints; Elder Neil L. Andersen of the Quorum of the Twelve Apostles; Bishop Dean M. Davies of the Presiding Bishopric; and members of the Pacific Area Presidency, Elder O. Vincent Haleck, Elder S. Gifford Nielsen and Elder Craig A. Cardon.      
Also in attendance were Elder Paul R. Coward and Elder David J. Thomson, as well as other Church leaders and government officials, including Hon Tim Macindoe, Member of Parliament for Hamilton West; Martin Gallagher, Deputy Mayor of Hamilton; Maori leaders and other special guests.
The cultural celebration was held on the eve of today's dedication of the Church's Temple View development project.     
The evening began with a conch shell announcement that the honoured guests had arrived safely, followed by a Powhiri welcome of the Church leaders.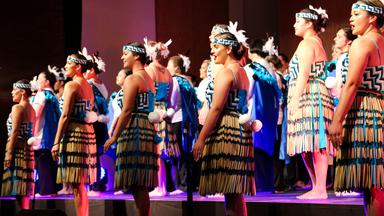 Segments of the program honoured the labour missionaries who built the Hamilton New Zealand Temple, Church College of New Zealand and other buildings in the 1950's. Other performances paid tribute to some of the Polynesian cultures of the South Pacific, as well as the legacy of faculty and students of Church College of New Zealand. Final performances looked to the future with hope and faith.
Video segments of individuals driving down memory lane shown throughout the program provided humorous and insightful glimpses into life in Temple View over the years.
Traditional songs and dances were performed by groups representing New Zealand, Hawaii, Tonga, Cook Islands and Samoa. The final song, "The Work is Finished," was especially written for this event.                                        
Participants in the celebration included Latter-day Saints from the Hamilton area. Rehearsals have been ongoing twice a week since early May. "It was worth the effort—easily worth it," said Atawhai Cowley (no relation to early missionary, Matthew Cowley).
"I would have done triple the practices to be a part of it."