The Fokololo Technical Institute was presented a gift of appreciation from The Church of Jesus Christ of Latter-day Saints during their school assembly on July 20, 2017.
The principal, Talanoa Hafoka, received the gift, carpentry tools and other building equipment, on behalf of the school and noted that they are greatly needed and will help as they continue to train their students.
Carpentry students at the Institute recently completed the building of a house on the Church's Liahona Farm in rapid time.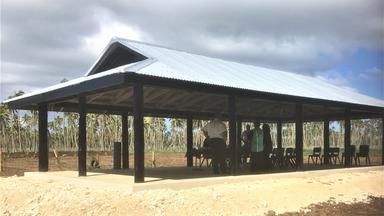 The tools and other equipment were donated as an expression of appreciation for the students' work on this project and in recognition of their continued support and partnership for many past years on a number of other projects.
Hans Sorensen, the LDS Pacific Area Welfare Manager, noted, "This school has been a wonderful resource for us in the Church. It helped train a lot of our young men who worked on a Church project in Ha'apai to build housing for those who were affected by the cyclone that hit a few years ago. We have kept that partnership with them on other projects so these gifts are an expression of our thanks for all of their support."