The exciting international performing group, Brigham Young University's "Living Legends," sang and danced before Her Majesty, the Queen of Tonga, Queen Nanasipau'u, Saturday night in the Atele Stadium of Nuku'alofa, Tonga.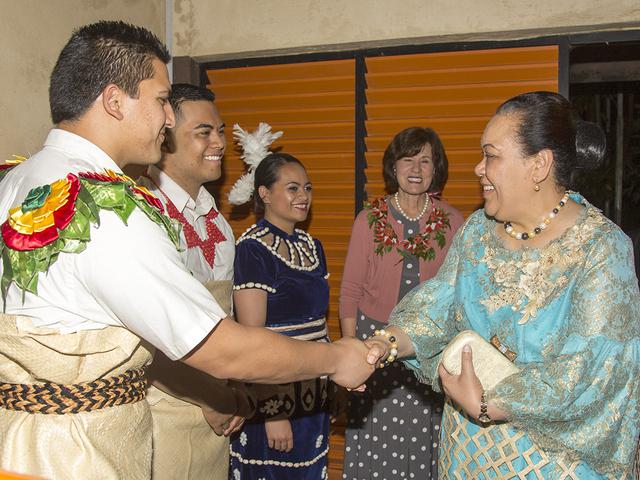 Approximately 800 invited guests attended the dazzling concert including local government, business, and faith leaders. 
Dignitaries included Honourable Lupepau'u, Nobles of the Realm, High Commissioners of Australia and New Zealand, Minister of Tourism, and the Speaker of Parliament. 
BYU Living Legends comprises 39 talented students of Latin American, Native American, and Polynesian heriitage.
Their performance includes traditional songs, dances and costumes which celebrate each of those cultures and portray their histories as interrelated civilizations from ancient to modern times.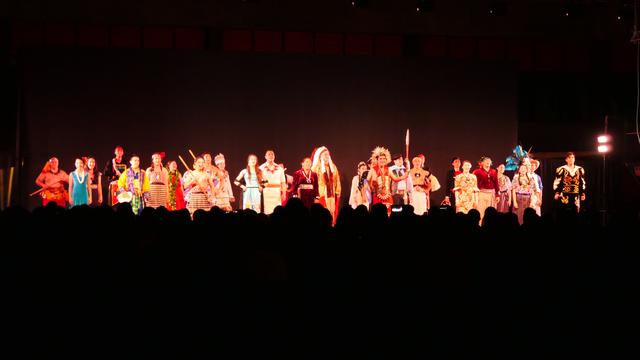 The story they unfold reflects the common threads of these cultures and people: honouring the earth and her bounties, loving family and neighbours, and revering the Great Spirit and Father of all who tells His children to "walk tall."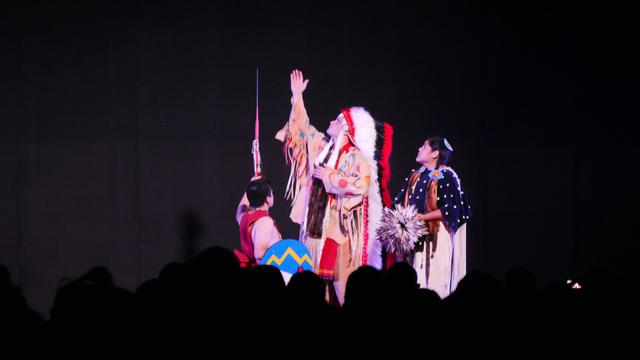 The panoramic show concludes with the classic number performed throughout their 45 years, "Go My Son," and an encore, "I Am a Child of God."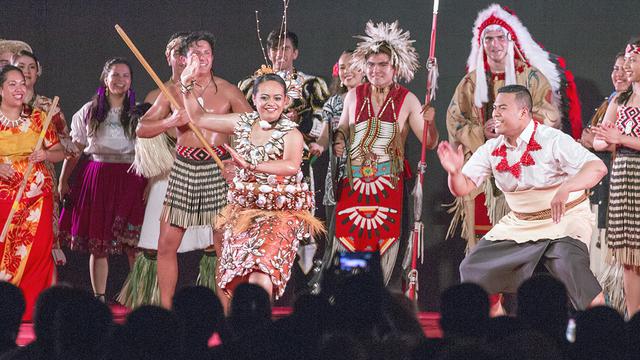 As a special, additional encore number for the Tongan audience and Queen, Tongans Sia Fifita and Michael Ikahihifo, danced the tau'olunga, a crowd favorite.
They then, along with Kamalu Kaluhiokalani, of royal Tongan descent, formally presented the Queen with a thank you gift.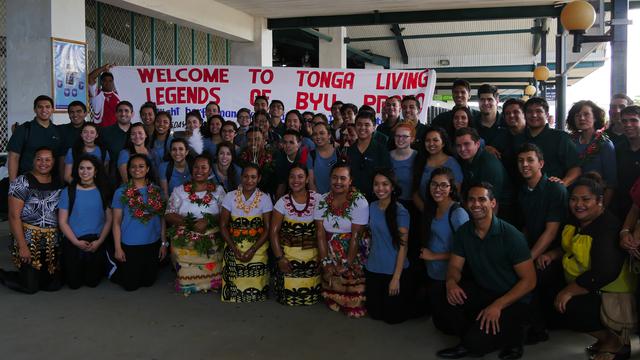 Following a successful eight day concert tour in New Zealand, the BYU Living Legends arrived in Tonga Friday to begin their week-long tour here.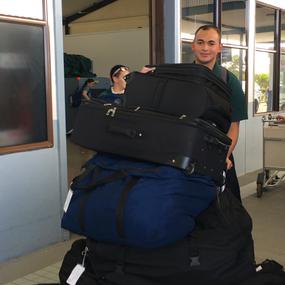 Greeted at the airport by local tour organizers from The Church of Jesus Christ of Latter-day Saints, the student performers, technical crew, and directors collected their 137 large bags full of costumes and equipment before receiving a traditional welcome from local dancers.
The BYU students responded with a song of thanks to their hosts.
After loading all the bags on a large truck, the students traveled by minibuses to the Scenic Hotel where they will stay for the week.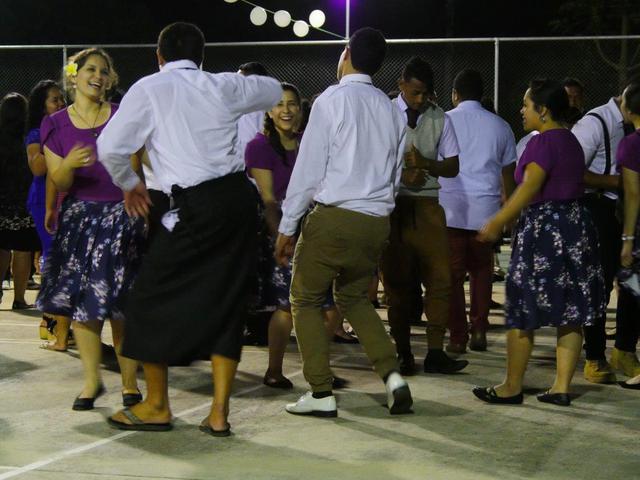 That night they enjoyed a welcoming Tongan dinner and show provided by local members of the Church, ending the day with a high-energy outdoor dance with local youth.
The students attended church services on Sunday and provided a special musical devotional meeting that evening at the Havelu Stake Centre (church building). Speakers for these devotionals are chosen from the group who speak about the experiences in their lives that have strengthened their faith and trust in Jesus Christ and His atonement. Most of them have served eighteen-month to two-year full-time missions for the Church in countries all over the world. 
At the conclusion of the Atele Stadium show many audience members lingered to talk with the student performers who came to the floor still in costume.
Comments from the audience, from all ages, agreed that the show was very special. 
"The first of that kind here," said Andrew To'imoana. "I was very touched spiritually. The story they told through their dances was our history, and how we are blessed, and then we forget, and then there are problems. They told it in such a beautiful way."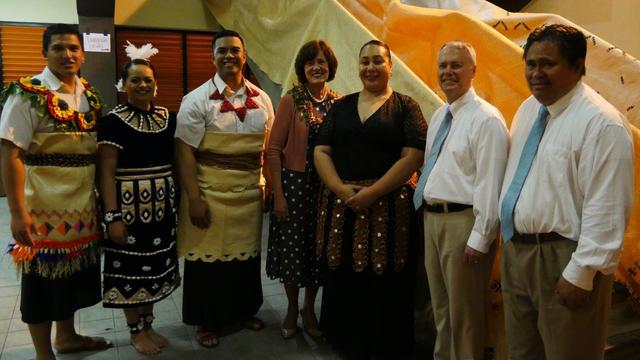 Hon. Lupepau'u said, "On hearing about this show for the first time I thought it was just another history lesson that was choreographed into song. I couldn't have been more shallow and wrong in my thoughts. 
"From start to finish this show mesmerizes as the universal themes of hope and unity resonate through the drumbeats of Native American, South American and Polynesian dances.It is here that a story of humanity unfolds with each of Nature's seasons." 
Hon. Lupepau'u added, "This is a breathtaking reminder of the diverse and yet similar cultures that we are all rooted in, and that the one universal truth that encourages us to keep paving the way for future generations--is hope stemming from faith.Filled with family values, a must-see again and again."
President Tuitavake, a local Latter-day Saint leader, said, "It was magic, beautiful. The show was incredible. You need to go on Tuesday to see it," he told others on Sunday. 
"I thought we were just coming to see a show," said Lamis Makitoni Ma'u of 'Eau Island. "I didn't expect to have the Spirit here."
His wife Hafanga agreed and said they wish their children could see it.
BYU Living Legends will perform again on Tuesday evening at 7:00 p.m. at the Atele Stadium.
Photo credits: Mark Philbrick and Barry Preator.