Young adults from countries and territories of the South Pacific had the opportunity on Sunday 22 May to watch a worldwide devotional featuring talks by President Russell M. Nelson and Sister Wendy W. Nelson.
Russell M. Nelson is the prophet and president of The Church of Jesus Christ of Latter-day Saints.
The devotional originally took place on 15 May in Salt Lake City in the United States. 
Over the last week the devotional was translated into several Pacific languages so more young people could enjoy the messages.
Several young adults commented on what they heard and felt as they watched the devotional on Sunday evening. Some use the term "YSA," which is short for "young single adult." Young married couples were also invited to attend.
Joshua Lodge
One of the questions asked during the devotional by President Nelson was, Who am I? What I learned from this question is that it is very important for me to understand that I am a covenant son of God especially myself as a convert to the Church. Being part of this gospel made me realized how blessed I am to be a member of the church of Jesus Christ. I am a disciple of Jesus Christ. He gave us the greatest gift of all when he was crucified so a soul such as myself can find happiness once again. 
Siosimani 'Ofa Fanguna
President Nelson reminded me of my own worth and promised me that as I do the right thing and know my worth, "I will experience spiritual growth, freedom from fear,....have the strength to have a positive influence far beyond my natural capacity," and many more!  Instead of thinking that the whole world is on my shoulders, I should turn to the Savior for guidance and help by building my own testimony and to share it with others. I love the restored gospel and the daily teaching that helps to better myself and to overcome challenges.
Kalolaine Tokomea Taufa
As I prepared to hear President and Sister Nelson, I thought of a question that has been weighing in my mind, "How should I be living my life with the choices I make?" I prayed for an answer. As I sat and listened, I was prompted by the spirit that my answer is here, I just need to pay attention. President Russell M. Nelson said this life is "hardly a nanosecond. But what a crucial nanosecond it is!" That's because our choices today determine what kind of lives we will live forever. I had learned that with diligent seeking, God will give me glimpses of who I may become. My question was answered. To label myself as a child of God, Child of the covenant, and a disciple of Jesus Christ.
Vaihere Terakauhau
We had a young adult activity to get us ready for today's spiritual meeting with the prophet and his wife. I was happy because we were prepared to receive the spirit. When we listen to that little voice that guides us daily, we make better disciples and can invite others back to Jesus Christ. I know that the posts shared by the Prophet and his wife invite us to do our best to become better people.
Rémanda Hapairai 
To better prepare myself for the devotional, I fasted right after our young adult activity. In my prayer I asked our Heavenly Father to help me to receive something I really needed so I can give him my whole heart and let him guide me. I really like what Sister Wendy Nelson said. She asked the question, "What would a holy young adult do?" This simple question challenged me and I hope I can put what they said today into practice." 
Joel Singsam
I liked Sister Nelson's question, "what would a holy Young Single Adult do? She acknowledged different YSA cultures and trends we are trying to get out of. We need to focus on the temple and focus on the Lord while working through challenges. I really feel like she knows what we're going through.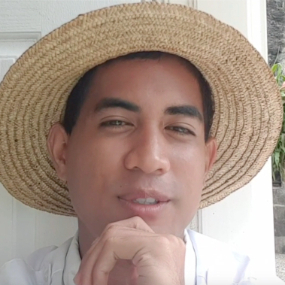 Henry Drollet
Our prophet Russell M. Nelson said we need to know the truth about who we are. Our identity is that we are children of God, children of the covenant, and therefore co-heirs of Jesus Christ because we have decided to be baptized and enter His Church. Disciples of Jesus Christ practice and share his gospel.
Limhi Mau
What I felt today is Heavenly Father's love for each of us. He cares for each of us and through His prophet, President Russell M. Nelson, we can receive revelations about how to be better, holy young single adults.
Sharon Ata
I learned from President Nelson that we have great value in the eyes of God. We have to prepare for many things for our future and we need to be good examples.
Gemma Mete and Jimmy Feilze from Port Vila, Vanuatu share their thoughts about President and Sister Nelson's devotional in videos.