Finding flattering, comfortable and modest clothing is one of the hardest tasks that many women face on a daily basis.
Tired of the struggle, Lizzie Tafilipepe took advantage of the gap in the market, encouraging young women to be confident in their own skin and launched her own label.
Reflecting on her experience, Lizzie shared how starting her business has been a huge blessing and faith-promoting experience in her life.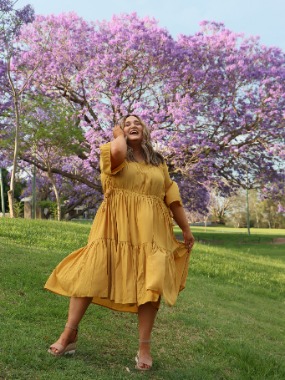 Lizzie says she launched her own label to provide her friends and family with modest, beautiful, comfortable dresses that are size inclusive. Showing women that their individual worth and promoting confidence is important no matter their height, size or skin tone is an important goal as Lizzie designs and showcases her work.
Although hesitant at first, feeling like the fashion industry was too frivolous of a choice for a real career, Lizzie attempted to find her path through other fields, starting two different university degrees.
Eventually, with lots of encouragement, she found her calling. "After about a year of research and late nights googling and youtubing everything I could on business we opened Lacey and Gloria." She also prayed and fasted about what she should do.
To further her cause in promoting individual worth and inspiring confidence in all women, Lizzie often uses her friends, members of her congregation, and family to model her designs.
For her, showcasing real women being comfortable in their own skin and promoting their strength is a big factor in choosing to become an entrepreneur. She also takes inspiration from the strong women in her life, even naming her company after her grandmothers, Frances Lacey and Gloria McDonnell and selecting names from her family tree for her new designs.
If starting a business before the age of 30 wasn't hard enough, Lizzie and her husband can't get enough of being busy. With two businesses and a full-time job taking their time, Lizzie and Billy have recently volunteered to spend four mornings a week teaching early morning religious studies to teenagers.
"We know that our service in church and constant prayer have also been such huge blessings in our business. Even though we work long hours, we know that by putting our Heavenly Father first we will be blessed beyond measure." she says.
Starting a business for Lizzie has been a hugely faith-promoting experience, where she has gained a deeper connection with Heaven.
"Heavenly Father gives you countless opportunities to meet people and it is just up to us to take those opportunities. I can be quite socially anxious but through taking numerous leaps of faith Heavenly Father has helped us meet people who have helped us."