Both the Catholic Church and The Church of Jesus Christ of Latter-day Saints value relationships with people of other faiths. They appreciate diversity and encourage religious tolerance while focusing on commonalities, rather than differences. 
Commonalities include caring for the needy, promoting religious freedom, strengthening families, supporting youth, encouraging good citizenship, fostering self-reliance and providing opportunities for education.
Leading the interfaith efforts in Wellington for their churches are Tania Torea, public affairs director for The Church of Jesus Christ of Latter-day Saints, and Sister Catherine Jones of the Congregation of the Missionary Sisters of the Society of Mary, and chair of the New Zealand Catholic Bishops Committee for Interfaith Relations.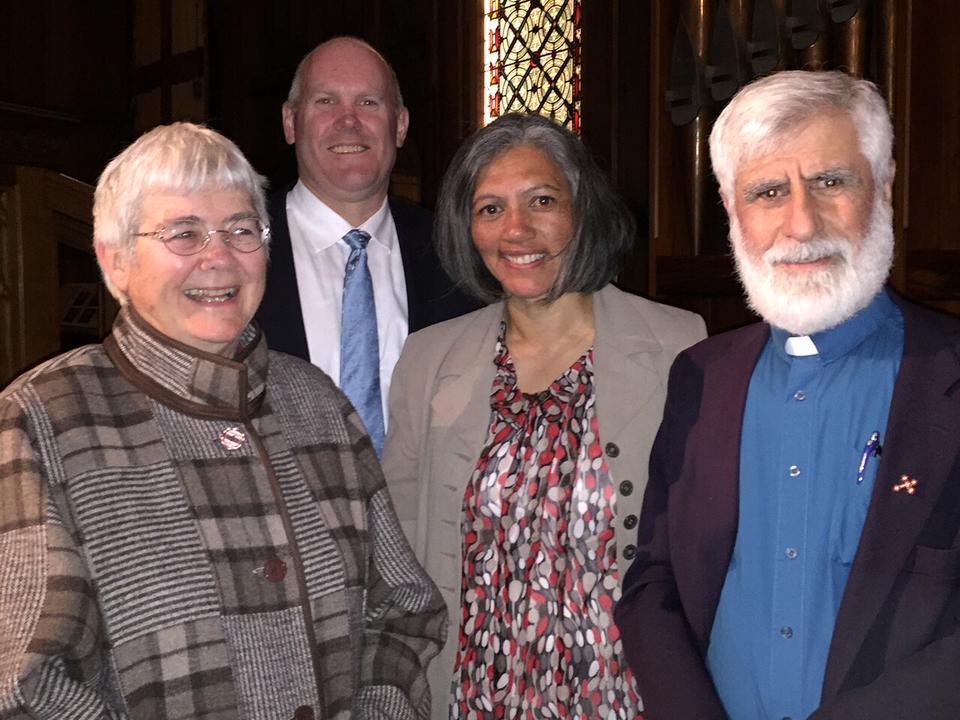 Working closely together over the last four years they have accomplished much and have become close friends.
"They are inspiring examples of how people can respect each other's differing beliefs, yet strengthen and inspire each other in the beliefs they share. They both love God and love serving others," said Richard Hunter, director of public affairs for The Church of Jesus Christ of Latter-day Saints in the Pacific region.
"A deep personal friendship has developed between Tania and myself, and for me it's important the way we've been able to share so much of our own personal faith journey with one another," said Sister Catherine. 
One of the things Tania said she appreciated when she first met Sister Catherine was the way she treated people. "I think (interfaith relations) is all about people," Tania said.   "It's about what people of different faiths have in common.
"When we first met, Sister Catherine treated me with so much respect, and how she included me was an example of why interfaith relationships are important, and how they work.
"One of my first visits with Sister Catherine at the Wellington Catholic Centre was near the time of a morning devotional.  She invited me to join in prayers, singing and reading of verses for reflection.  Although it was different to the way Latter-day Saints gather, I felt it was a moving spiritual experience.  We have shared many spiritual experiences together since."
Tania continued, "We have also become comfortable in each other's churches.  Earlier this year, I invited her to an evening devotional at our Hataitai meetinghouse.  I was running a bit late, and who should be at the door greeting everyone as they came in, Sr. Catherine.  That's a perfect example of an interfaith friendship."
"It has been a wonderful privilege to be involved in interfaith relations with The Church of Jesus Christ of Latter-day Saints during my time here in Wellington," said Sister Catherine. 
She went on to recall her first interaction with the Church was when Tania Torea's predecessor, Eileen Muller, invited the Catholic youth to be involved in collecting books for Fiji schools.
Since then the two churches' collaboration has grown to include other important projects such as last week's two-day "Young Adults to Parliament" seminar held in Wellington for youth interested in the workings of government. 
The gathering included visiting parliament to meet with MPs, volunteering at Compass Health assembling hygiene kits for needy children and women, and an interfaith devotional open to the public held at The Church of Jesus Christ of Latter-day Saints' meetinghouse in Porirua.
Like other successful friendships, Tania's and Sister Catherine's friendship includes being supportive in all aspects of each other's lives and serving each other. 
"The service aspect of our friendship and our relationship has been such an important element," said Sister Catherine. 
"We talk not only about our faith but also things we are interested in," said Tania. "That led once to bringing some of the Church's missionaries over to help in her garden." Sister Catherine called it an amusing time "tidying up my jungle garden." 
"Something that I remember so wonderfully was the surprised look on Cardinal John Dew's face when Tania and some of her friends turned up for his installation after being named a Cardinal," recalled Sister Catherine.
She also related that since The Church of Jesus Christ of Latter-day Saints doesn't have cardinals, Tania at the time quipped, "Well he's our Cardinal too."  
Said Sister Catherine, "It's that friendship that I valued and I know I will certainly miss when I move on for a new mission assignment next February at a French-speaking parish in London.
"The gift of these friendships with Tania and with so many other people in the interfaith community—with the Jewish and Muslim community as well—is something I know I'll miss, but in one way I'll carry it in my heart as I leave."
"I and so many members of The Church of Jesus Christ of Latter-day Saints will miss her, but she will always be remembered for the good person she is and the good she has done," said Tania.
Photo Credit: Barry Preator