The Salvation Army, a Christian church and international charitable organization dedicated to sharing the love of Jesus, has a long tradition of identifying community needs and then finding ways to relieve suffering and promote wellness and improved living conditions.
In Alice Springs, a city located in Central Australia, The Salvation Army runs an "open door to the community" called "The Waterhole." Since opening in late 2012, this community centre has provided accommodation, food, and other support to individuals and families, many from Indigenous communities, who visit the city for medical treatment or other appointments.
Latter-day Saint Charities, the humanitarian arm of The Church of Jesus Christ of Latter-day Saints, is also focused on following Jesus Christ by helping others.
On Friday 29 October, a small ceremony took place at "The Waterhole," at which representatives from the Church made a donation of humanitarian supplies to The Salvation Army.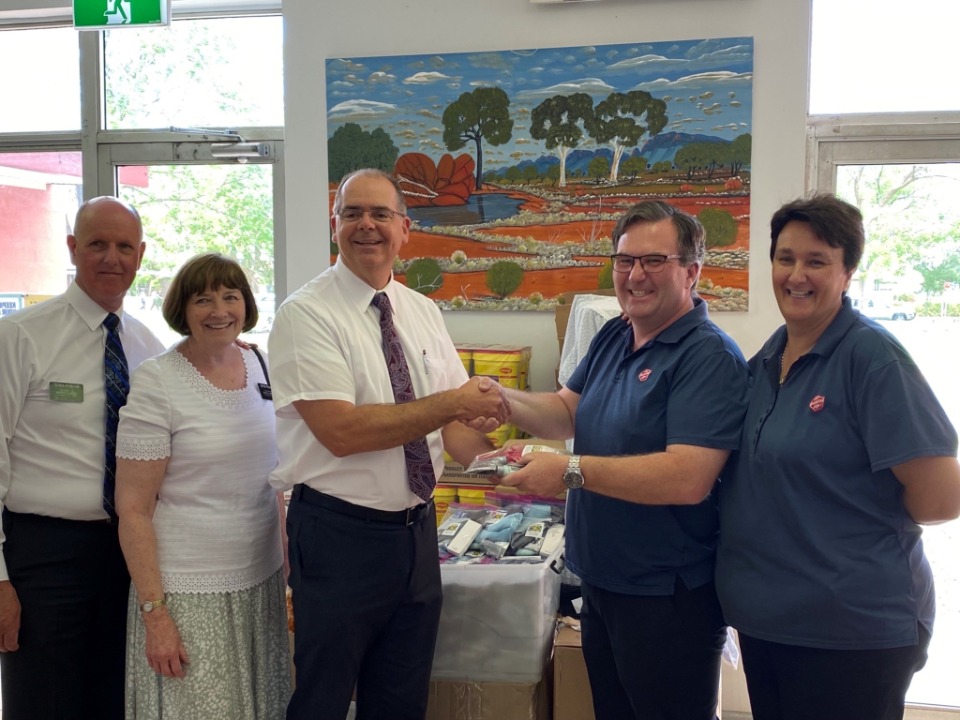 To support the ongoing work of assisting those in need, Latter-day Saint Charities is donating 12-months of supplies to the Salvation Army. This will include a total of 2,100 hygiene kits, as well as food and clothing.
Each hygiene kit contains soap, shampoo, conditioner, a toothbrush and toothpaste, a wash cloth and a shaving razor.
Elder Paul Lekias, Area Seventy (regional leader) in The Church of Jesus Christ Latter-day Saints, said, "We are grateful for our friends in The Salvation Army, for their examples of Christian service to others. We hope that the supplies we are providing will help them in their important work to relieve suffering and bring hope to individuals and families in need."
Elder Lekias continued: "The Saviour himself taught that the two greatest commandments are to love God with all our heart, and our neighbour as ourself. Today we witnessed like-minded people coming together as an example of what the Saviour taught."
He added, "We will use local vendors for the goods we are providing, but some supplies will need to be shipped in. Hygiene kits are being assembled by local members and missionaries from The Church of Jesus Christ of Latter-day Saints."
Captain Rhonda Clutterbuck, Salvation Army Northern Territory representative in Alice Springs, said, "We have so much work to do, we appreciate this support from Latter-day Saint Charities."
Read more at the Salvation Army's others.org.au website.