Two Fijian leaders from The Church of Jesus Christ of Latter-day Saints–Elder Taniela B. Wakolo and Elder Paul B. Whippy–were companions this past weekend at the Auckland New Zealand Henderson Stake Conference.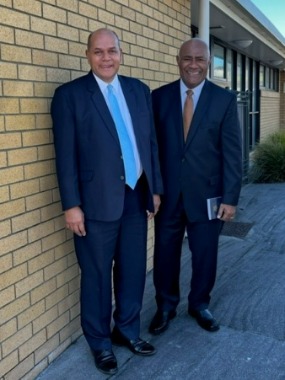 Elder Wakolo is a General Authority Seventy and a member of the Pacific Area Presidency of the Church; and Elder Whippy is an Area Seventy based in Suva. It is the first time that two members of the Seventy from Fiji have attended and spoken at a Church conference where members of a new stake presidency were called.
Under the direction of the Quorum of the Twelve Apostles of the Church, the two leaders reorganized the Auckland New Zealand Henderson stake presidency during its twice yearly conference on Sunday.
Stake leaders usually serve for eight to ten years, overseeing the congregations in a geographical area. As they serve without pay, they have full-time employment so they can provide for their families.
Elder Wakolo and Elder Whippy served together in the Suva Fiji stake presidency from 1996 to 1999, so the last time they attended the same stake conference was 22 years ago. Paul Whippy was the stake president and Taniela Wakolo was his second counselor then.
After the conference, Elder Wakolo and Elder Whippy visited with Sister Jill Palmer in her home. She and her late husband, Kenneth Palmer, were mission leaders for the Church in Fiji in the 1970s.
They shared with Sister Palmer their love and appreciation for the leadership and service she and her husband gave to the people of Fiji.