Members and friends of The Church of Jesus Christ of Latter-day Saints across Tonga participated in "Come and Help" community service projects on Saturday 27 February.
Participants included people on the outer islands of Vava'u, Ha'apai and Eua.
Church leaders worked with local government officials and other churches to identify specific areas that would benefit from this hands-on service.  
Volunteers cleaned the grounds of government primary schools, town halls, family and village cemeteries, and the Royal Tombs.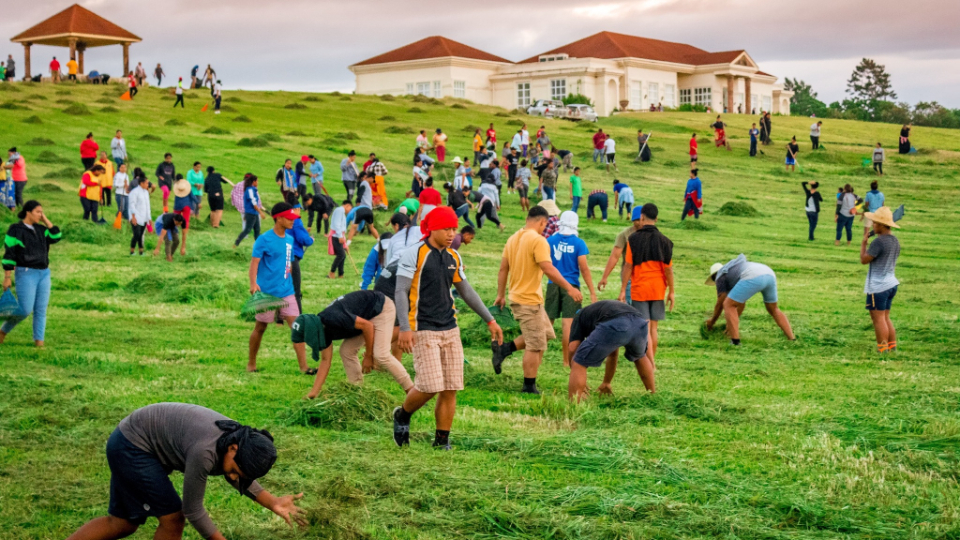 They showed up early with their tools, including lawnmowers, plows, weed eaters and rakes.  Skilled workers used their talents as a few of the school buildings needed new paint jobs and welding work to be done.  
The national service project took place on Saturday 27 February 2021, starting at the early morning hour of 6:00 am, continuing for three to four hours in most places.   
Four radio stations covered the service projects live on air, and Church representatives made telephone calls to the stations to share the work they were doing.
Media coverage from TV and Radio Tonga focused on the Nuku'alofa area and was broadcast throughout the country. 
Talaiasi Maile, Government Primary School Fua'amotu Principal, expressed his gratitude to the Church for the service.
Mr. Maile said, "I know how important education is to the Church, as shown by all of the work they are doing at the Government Primary School."   
"The members of the Fua'amotu Ward will continue to do this service project once a quarter at the school," said Tohiminiti Latu, the lay leader (bishop) of the Fuaʻamotu 1st ward.  
Church members from northern parts of the country wanted to help people become more self-reliant, especially with the world-wide COVID-19 pandemic. They planted fruit trees and vegetables for 24 families and also did needed maintenance work on their homes.  
Church members from southern parts of the country recognized the need for a major rubbish pickup in their village.
Volunteers picked up trash along the side of the main roads, and local Church leaders organised for trucks to transport the rubbish to a landfill area. 
Epeli Vaka, a worker from Tonga's Waste Management, said, "We were very happy and grateful that members from the South Stake helped out by picking up so much of the trash in our area. It was impressive to see how much they were able to do in only a few hours." 
Friends of other faiths also participated alongside Church members in the clean-up project. A great sense of togetherness was felt by those that participated and all were proud to be a part of this great service.