Caroline's journey began as a single mother working in a bar in Apia, Samoa. One day at work she was attracted to a senior couple sitting in the adjacent restaurant and went over to fan them. They struck up a conversation, telling her they were missionaries of The Church of Jesus Christ of Latter-day Saints.
The couple, Maurice and Alecia McBride, explained some of the basic beliefs of their faith and Caroline was very interested. In time, and after being taught more, Caroline joined the Church.
Since one of the doctrines of the Church discourages drinking alcoholic beverages, after joining, Caroline felt it was not proper to continue her employment in the bar. However, her family thought it was not a good idea to quit her job because she had a three-year-old child, Molly, she needed to support. It was at this time that Caroline felt she should move away from home.
Wanting to help, the Pauga family offered to allow Caroline and Molly to stay with them. While living there, Caroline learned much more about the Church and developed a desire to attend the Latter-day Saint temple. In May of this year she accomplished that goal.
After learning of Caroline's situation, the McBrides approached the Church-owned and operated Pesaga Dental Clinic asking if they could provide an opportunity for Caroline to develop a skill as a dental assistant.
The McBrides continued to support Caroline while she trained at the clinic. After a year of training, Caroline had developed enough knowledge and skill to apply for a position in the dental clinic in the hospital.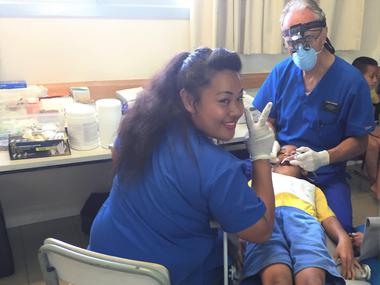 According to Linda Spencer, whose husband, Dr. George Spencer, is a full-time missionary of the Church working at the Pesaga Dental Clinic, Caroline soon became a much-loved dental assistant of clients at the clinic. After a short time, to demonstrate the skills she had developed, Caroline started volunteering at the hospital on her day off. There, too, she became a favourite, with several dentists requesting her as an assistant.
Finally, one day in May 2017, she started full-time, paid employment at the hospital. Now she can support herself and her daughter.
Since completing her training and securing full-time, paid employment, she is once again living at home with her family, including the grandfather who raised her.
Caroline now hopes to continue progress in her chosen profession and to eventually become a dentist.
For now, though, Linda says, "The difference in her from a year ago is phenomenal. … she's just a ray of sunshine. She's a happy girl."
Linda continued, "(Caroline) has been a great example of someone who has faced overwhelming obstacles but has persevered and taken advantage of anything that would lead her to a better life. She has approached all of this with a smile and great faith and hope."
Dr. Spencer and Linda Spencer have similarly fostered others who came to assist at the Pesaga Dental Clinic.
"We love their singing, their joking, their laughing; and they're all very helpful," said Dr. Spencer.