Myron and Joy Mickelsen could be enjoying retirement with their children and grandchildren in central Utah.
But instead, they are putting in 12 hour days helping people get a job, find a better job than the one they have now, or start their own business.
As "Self-Reliance" missionaries for The Church of Jesus Christ of Latter-day Saints, they work with individuals trying to improve their personal and family situations.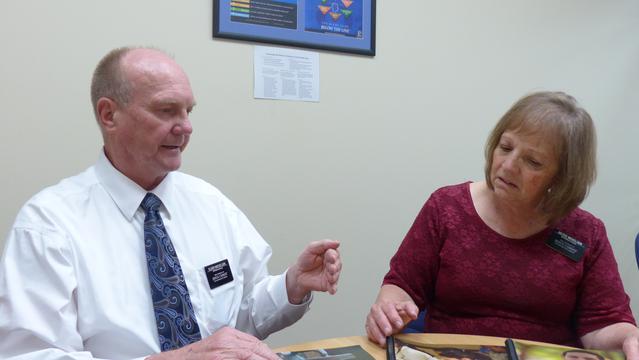 They speak with tenderness of the friends they are making along the way.
One woman has now started her own craft business, making Maori-themed cards. Another man is employing family members in Samoa in his new fishing supplies business.
"When a person expresses a desire to become more self-reliant, we help them get into a six or 12 week course, depending on what their needs and goals are," Elder Mickelsen says.
"Next week we will hold a graduation for 12 people in Papatoetoe who are completing the 'Starting and growing my own business' course."
The Mickelsens have kept up a hectic pace for the last seven months, with 11 months to go before they complete their missions and return home to the United States.
They laugh that they have to stop once a week to do laundry and rest.
"But," Sister Mickelson says, "it's all worth it. It's all about these wonderful people. We love them, and love seeing them rise up through their understanding and application of self-reliance principles."
Auckland Self-Reliance manager for the Church, Moses Armstrong, leads the work, and relies heavily on the Mickelsens' expertise and enthusiasm.
"A key to our work is the My Foundation: Principles, Skills, Habits booklet," Mr Armstrong says.
"It teaches individuals how spiritual and temporal changes allow them to find the jobs, education pathways and business opportunities they are seeking."
He added,  "There is much to be done, and many more people we want to help. We are looking forward to two additional volunteer couples who will join our team soon."
According to the Church's Pacific Area manager for Self-Reliance, Paul Reid, "The three priorities of the Self-Reliance initiative are education, employment and self-employment. Our church's focus for the Pacific Area is 'Self-Reliance through Education' and Moses Armstrong and the Mickelsens are very much involved with this initiative."
"They and others involved in self-reliance efforts are assisting youth, young adults and 'second chance learners' to increase their secular learning and qualifications by taking advantage of the many educational opportunities available in Auckland."
Watch a video that outlines the basic principles of self-reliance as taught by The Church of Jesus Christ of Latter-day Saints.
Read about people in Solomon Islands who are learning about self-reliance.