"No one is waiting for help. They are helping each other," Hans Sorensen said of the people of Vanuatu — or Ni-Vanuatu — as they recover, rebuild and replant after Cyclone Pam.
Hans was one of three men from The Church of Jesus Christ of Latter-day Saints' Pacific Area Office in New Zealand who was in Vanuatu last week assessing needs of Church members and others impacted by Cyclone Pam. 
Although Vanuatu sustained devastating destruction caused by the level 5 cyclone — Hans Sorensen, Area welfare manager, Garrick Parr, Area materials management manager, and Elder Gary Winters, a welfare and humanitarian specialist — were pleased to report the people showed a remarkable positive attitude, brotherly and sisterly kindness, and resiliency that some may not expect under such dire circumstances.   
"All of the trees (coconut palms excepted) are naked of all leaves," Hans says.  "Large uprooted banyan trees lie scattered and battered across homes, school, roads and bush land. Evidence of the brutal power of the storm. Those trees left standing have the look of winter (leafless and lifeless) but with mangled branches. Fallen coconut palms litter the ground. Fruit trees have shed their fruit, before time, across the beaten landscape. 90% or more of the indigenous-styled homes have been utterly destroyed."
"Amidst all of this gloom," Hans continues, "arise a people, not broken like the trees or homes about them, but, who gather whatever materials the cyclone left behind and start to rebuild their homes with optimism."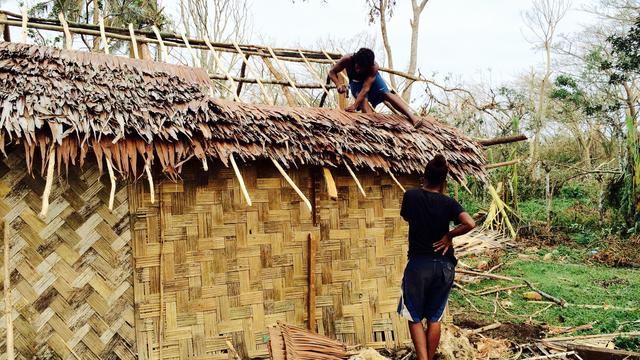 The Blacksands Latter-day Saint chapel has been designated a community emergency evacuation shelter where members of the Church and others live.
"During the day the people return to their 'homes' to rebuild and only come back to sleep at the chapel," Hans says. Several other Latter-day Saint buildings continue to provide shelter for some and a gathering place to receive food and water for many more.
According to Hans Sorensen a curfew exists between 6pm to 6am. "There is no news of looting or vandalism," he says. "Instead, people are helping one another. Members of the Church are helping one another to rebuild their homes with local Latter-day Saint leaders providing direction and building teams."
Garrick Parr, who was also in Vanuatu last week, says the Vanuatu Government is doing a lot for the people, in very tough circumstances. "They have done an outstanding job assisting the people in clearing the roads littered with fallen trees and debris, and restoring power as soon as possible, among other initiatives."  
"Latter-day Saint leaders are in regular communication with government officials so Church aid and efforts are supportive of and coordinated with government efforts to help as many people as quickly and efficiently as possible."
Members of The Church of Jesus Christ of Latter-day Saints are encouraged to become self-sufficient and, in turn, be better positioned to serve their neighbours and broader community. 
Elder Gary Winters puts it this way: "As people reach out to one another it begins a chain reaction that blesses communities and an entire nation."